Canada (Banff NP, & Vancouver)
My boyfriend and I went on an amazing 6 week road trip this past summer. We drove from NC to CA and I want to share our travels with you. We just entered Canada and are spending 6 wonderful days here.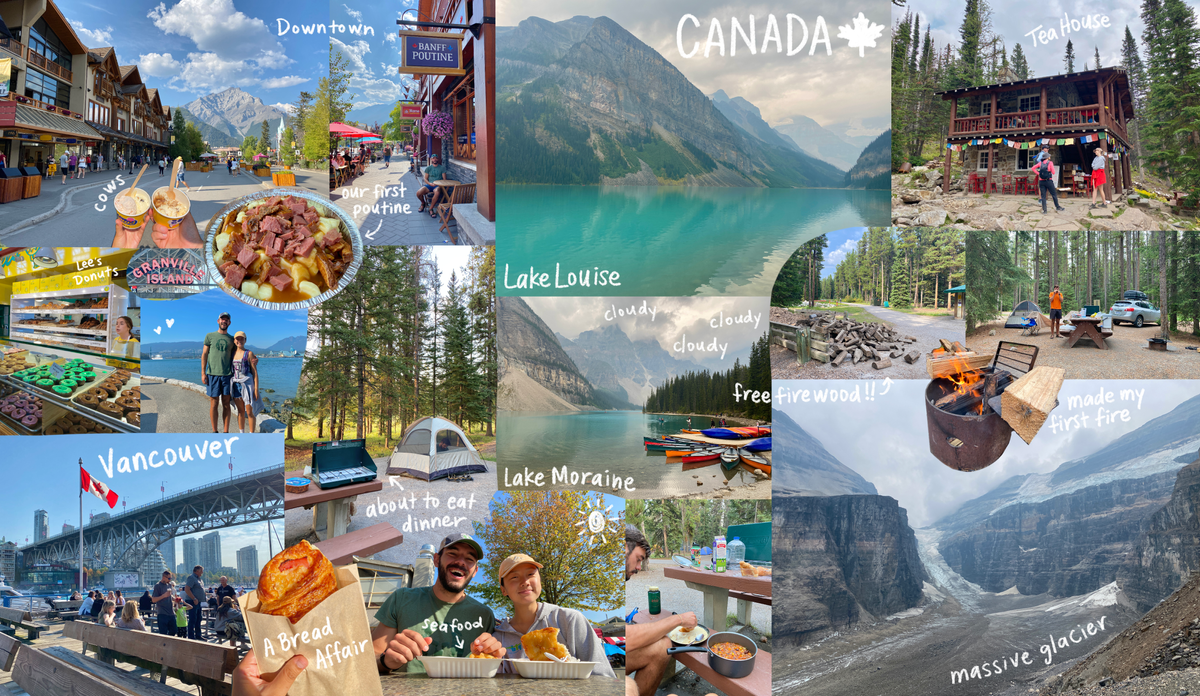 Day
Itinerary
(8/28/23) Day 23

8am - Breakfast, get ready
10am - Depart Campground, park outside of Glacier National Park to check phone notifications, drive to Canada
1:30pm - Explore the world's largest YMCA
2pm - Grocery shop
3pm - Check into Airnb, make food, do laundry, shower, charge devices, update financials
11:30pm - Go to bed

While we were in Glacier National Park we didn't have any cell service 📶 so the moment we got some, we parked and checked our phones for missed messages and emails. While Cam was checking his phone, we found out that his Spartan Race that was supposed to take place in Kelowna, BC on 9/2/23 was canceled due to smoke from the Canadian wildfires.
Needless to say he was bummed about this news 😔 because he had been looking forward to this race for months. This race was honestly the reason behind us even going up to Canada in the first place. We had a whole day dedicated to this race so we now had to figure out how we were going to do instead.
For those of you wondering what crossing the border is like, it's a pretty simple process. We just presented our passports and answered some questions like: "What brings you to Canada?" "How long do you plan on staying?" "Where is your home?" "Do you have any water crafts with you?" We got through to Canada in less than 5 minutes.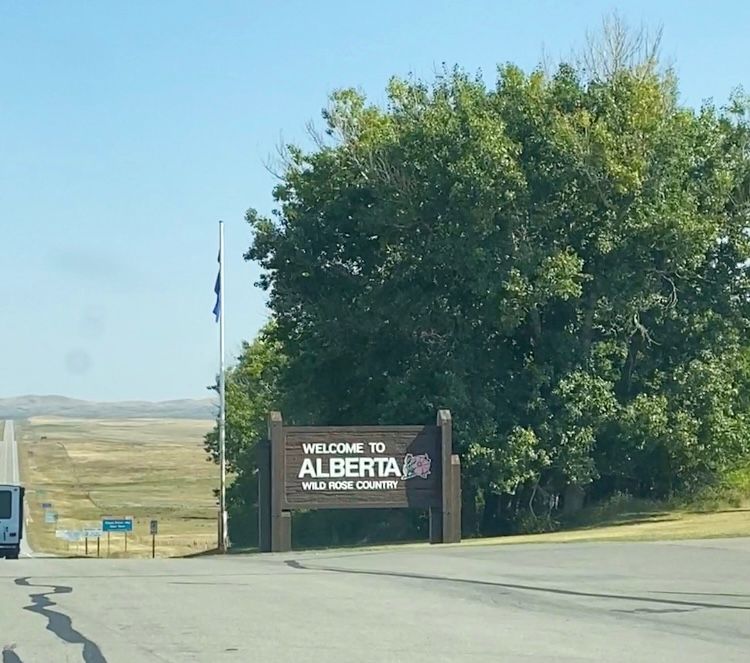 Day
Itinerary
(8/29/23) Day 24

7am - Wake up, pack, breakfast
11am - Depart Airbnb and drive to Banff
1:30pm - Arrive at Banff, explore, eat poutine and ice cream
6:30pm - Meet up with sister
7pm - Check into Tunnel Mountain Village 1 Campground🏕, make dinner and campfire
9:30pm - Go to bed

We spent the afternoon exploring the town of Banff and found wifi to continue figuring out what our change of plans was going to look like. We tried poutine for the first time and this very popular ice cream spot called COWS🐄. Both were pretty good. I kind of wish the cheese on the poutine was melty or fried. I didn't like the 'squeaky' texture it had.
My sister also happened to be visiting Banff with some friends so we coordinated a time to meet up. Seeing her in a place that neither of us lived in made the world seem smaller.
That night, we made our first campfire of the trip and I feathered a stick for the first time! I used one of those Swiss army knives everyone has so it wasn't an ideal blade but I got it to work. Overall our first day in Banff was pretty awesome between the good food, seeing family, and trying something new.
Day
Itinerary
(8/30/23) Day 25

7:15am - Wake up, go to town for wifi to book shuttle to Moraine Lake
8:45am - Hike Tunnel Mountain
11am - Drive to Lake Louise, explore town, relax at visitor center
1pm - Check into Lake Louise Soft Side Campgorund, eat, relax
4:30pm - Make fire (free firewood) and eat dinner (chili)
7pm - Showers🚿(free) and get ready for bed
9:30pm - Go to bed


(8/31/23) Day 26

6:45am - Wake up, breakfast, pack
7:20am - Hike Louise Creek Trail + Plain of Six Glaciers - Big Beehive (16.7 mi, 4995 ft el gain), stopped at Tea House for a treat
4pm - Get back to campground and drive to shuttle pick up spot
5pm - Go to Moraine Lake 🌧 (down poured on us)
7:10pm - Return to campsite, make dinner, shower (we had to huddle under a shelter to make dinner)
9:10pm - Go to bed

We hiked right out of our campsite to get to Lake Louise and it was a peaceful start to the day. When we reached Lake Louise, there were tourists everywhere, which I thought took away from the beauty of the place. It seemed like most people only really cared about getting 'the photo'.
Once we hiked past the tourists, Cam and I were finally able to appreciate the serenity and the grandeur of the landscape we were in. We came across the Plain of Six Glaciers Tea House and were intrigued by how rustic and cute it looked. We took a closer look and saw a sign that read "1 free tea or dessert if you hike down a garbage bag."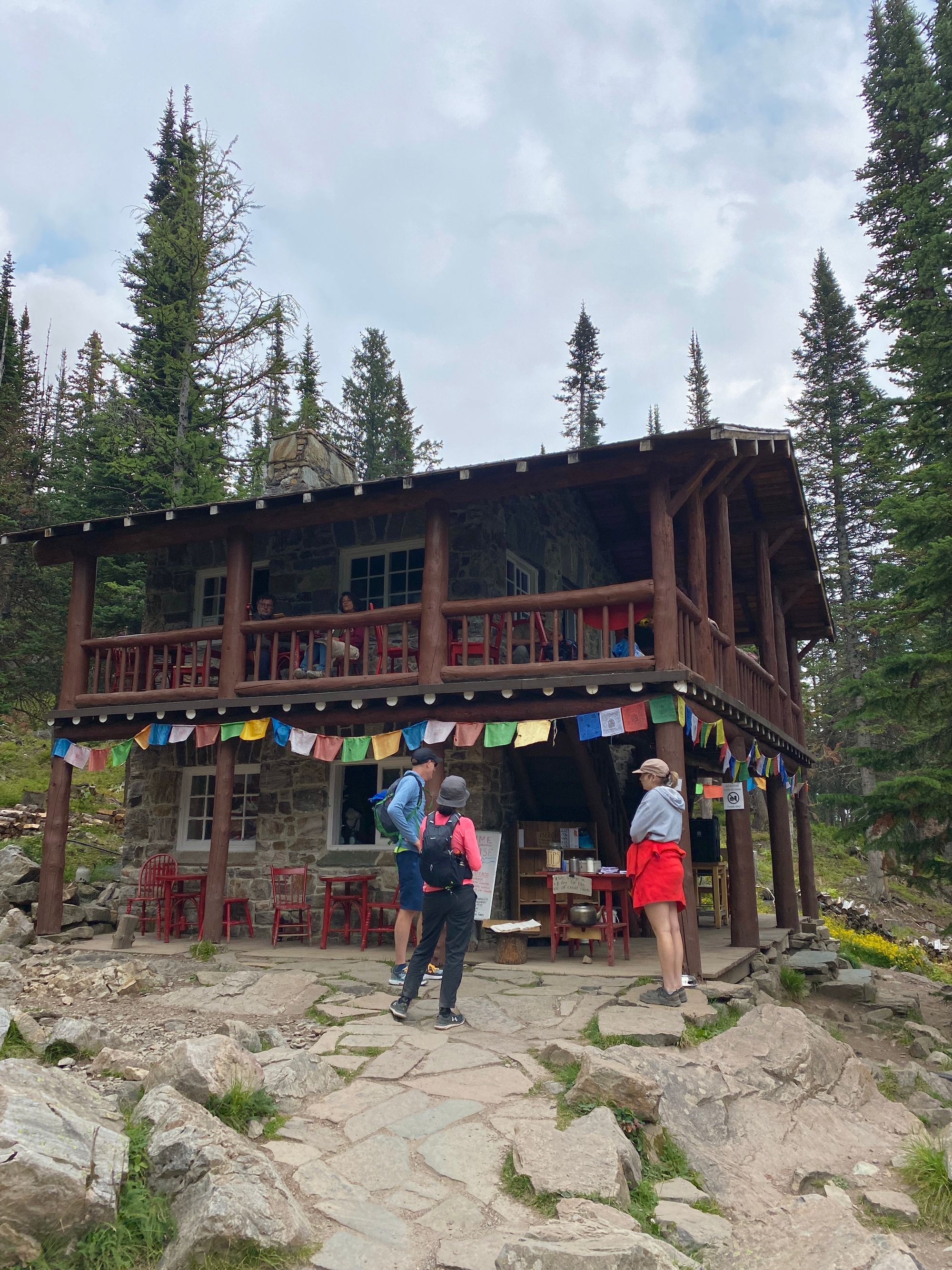 Both of us lit up when we read this and were immediately down to hike down trash bags for food. We each got a piece of banana bread for our 2 free desserts and then paid for some soup and bread. The banana bread was so good! We ate our food with the icey gray mountains in the background and it was just a lovely experience. I've never eaten at one of these types of 'remote' establishments and I appreciate Cam for really encouraging us to do it. I recall him saying, "It's for the vibes."
We finished eating and hiked to the top to see the glacier that feeds into Lake Louise then headed back down to the hut to pick up our two trash bags. (We offered to leave a credit card or ID as insurance but they went by the honor system and trusted that we'd come back for the trash bags.)
Later that day we hopped on a shuttle 🚍 that we reserved the previous morning for Moraine Lake. Apparently there'd been too much traffic going to this place which was damaging the environment, so the only way you can really get there now is by shuttle. We hiked to the other end of the lake, skipped some rocks along the way, and took pictures. If it wasn't as cold or cloudy as it was, we probably would've jumped in the lake.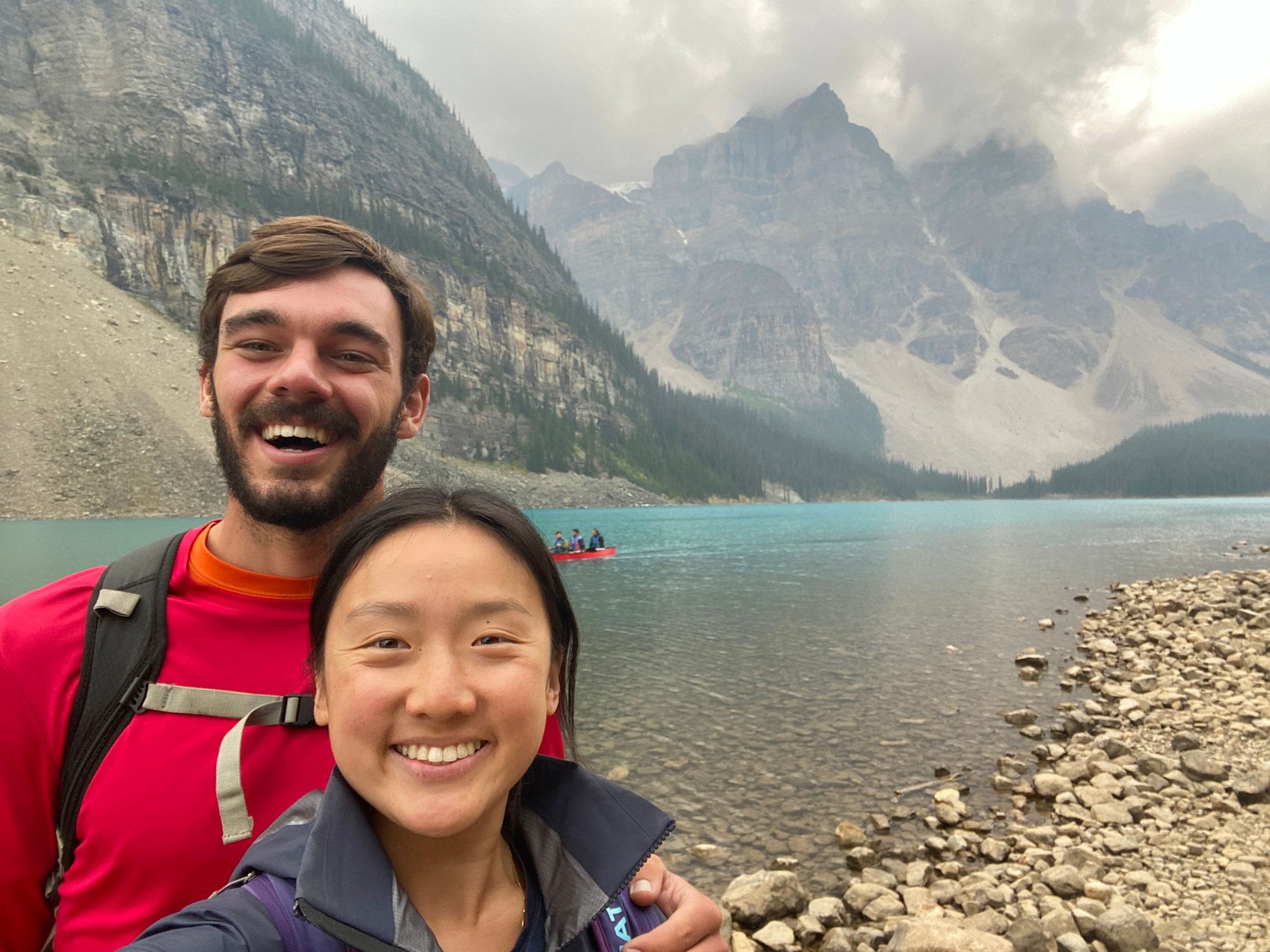 Those thick clouds had trouble written all over them. It started pouring on us and I was wet, cold,🥶 and ready to go back to our campsite. After taking the shuttle back and we got to our campsite, we brought our food and stove to a nearby shelter so we could eat our dinner out of the sprinkling rain. We chatted with a few other campers who were also doing the same thing. One of them was generous enough to share some of his mom's home cooked food with us too.
I have to give MAD PROPS to Canadian campgrounds because they're awesome! 1. Fantastic locations 2. Reasonable prices 3. Multiple shelters to avoid weather 4. Showers and Firewood included in campsite fee
Free showers and firewood 🪵… are you kidding me??? U.S. campgrounds could never. I couldn't begin to tell you how nice it was to get a hot shower after being wet and cold, and crawling into my sleeping bag all dry and warm. It was simply the best! The showers were also well lit and pretty clean.
Day
Itinerary
(9/1/23) Day 27

7:45am - Wake up and pack up
9:30am - Go to Samson Mall and eat at Laggan's (great cinnamon roll)
11am - Depart Banff and head toward Vancouver
3pm - Eat at Mcdonald's (Cam liked the poutine here better than the previous place we went to) and get gas
8pm - Arrive at casino to park for the night, make and eat dinner
9:30pm - Go to bed😴

It was cloudy for most of our stay in Banff. It only cleared up on our last day and we caught glimpses of the mountains we didn't realize were there until we were about to leave. Weather is obviously something that's out of our control but I really hope we get the chance to go back and see Banff in sunnier weather.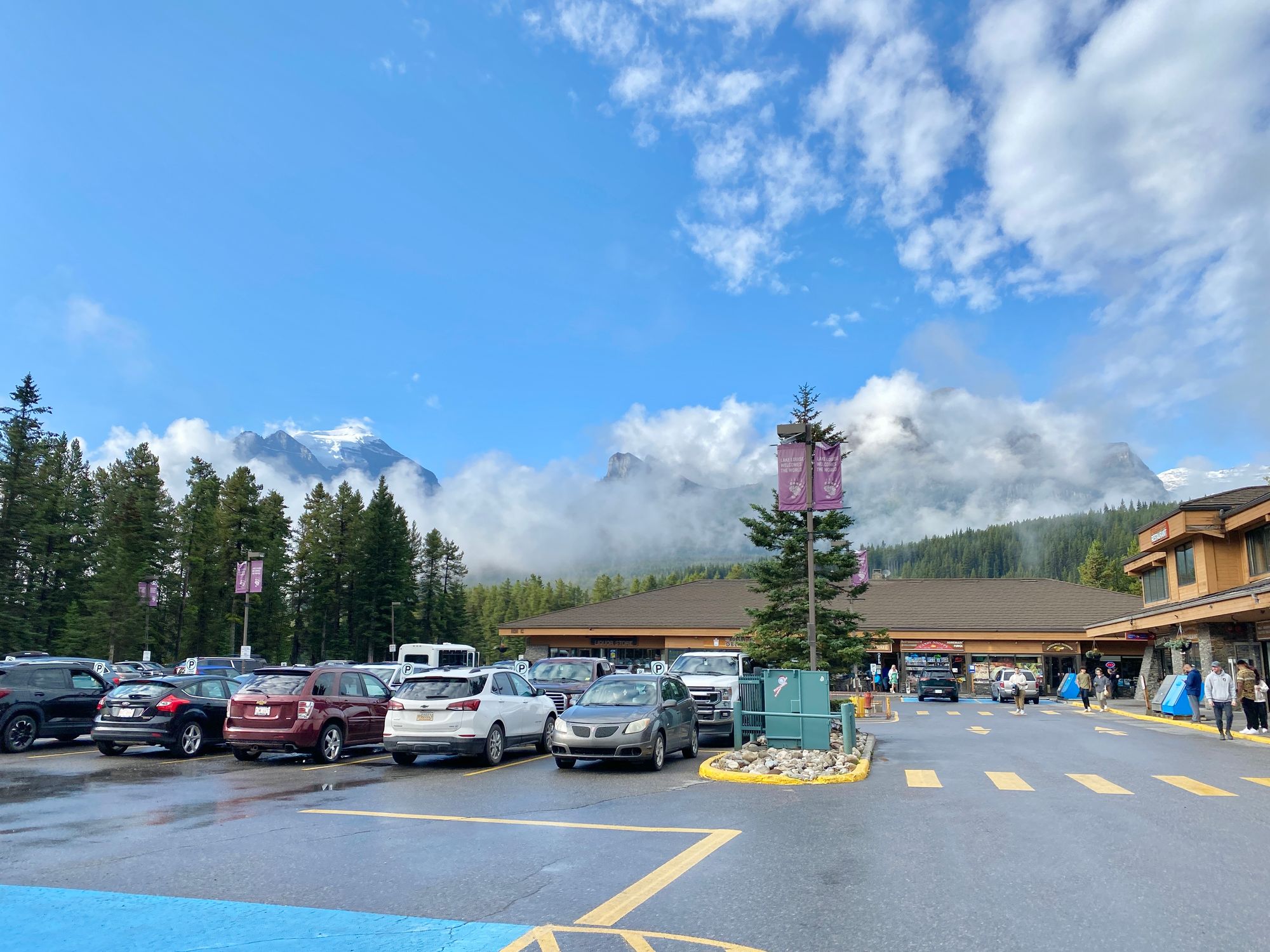 Day
Itinerary
(9/2/23) Day 28

6:45am - Wake up, pack, and get ready
7:35am - Drive to Vancouver
9am - Park and explore Granville Island, Gastown, Seawall 🏙
6pm - Depart Vancouver, re-enter USA, buy groceries at Safeway
8:30pm - Park at BOW Point, get ready for bed, and air out wet camping gear
9:30pm - Go to bed

Cam and I thought Vancouver was a pretty fun spot. We especially loved Granville Island as I'm sure most people who visit do too. There were so many unique shops to browse and you could find all types of food to eat: seafood, pastries 🥐, pastas, sandwiches, sausage, cheese, and more. The upbeat and bustling energy made the place so inviting. If I lived anywhere near Granville Island, I would come at least once a week to grab a pastry, sit somewhere to journal, and people watch.
We made our way to Gastown to see the Steam Clock, then to the seawall, and finally toward the beaches on the South West side of the city before getting back to our car. Vancouver seemed like a lively city. It was nice to see so many locals doing their thing, whether it was paddle boarding in False Creek, playing volleyball 🏐 at the beach, or just going for a routine run along the seawall. We also saw a couple wedding ceremonies/photoshoots, a cruise ship passing under Lions Gate Bridge, and plenty of sea planes flying overhead.
I loved that there was so much going on but also space to escape the business. We don't see ourselves ever living in Vancouver but we'd love to come visit again if there was some event happening nearby or in the city.
As we adjusted to Cam's canceled Spartan Race, we ended up going to Vancouver a day early, which resulted in us coming back to the US a day early. I won't get into all the nitty gritty details of how far we strayed from our original plan for the coming days, but just know we spent an annoyingly large amount of time on our trip figuring out a plan B. 😅 But what's a road trip without a major hiccup (this wasn't even that bad).
We're back in the homeland now and so get ready to explore Washington with us next week!