Yellowstone and Glacier National Park
My boyfriend and I went on an amazing 6 week road trip this past summer. We drove from NC to CA and I want to share our travels with you. We're now leaving Wyoming and entering Montana!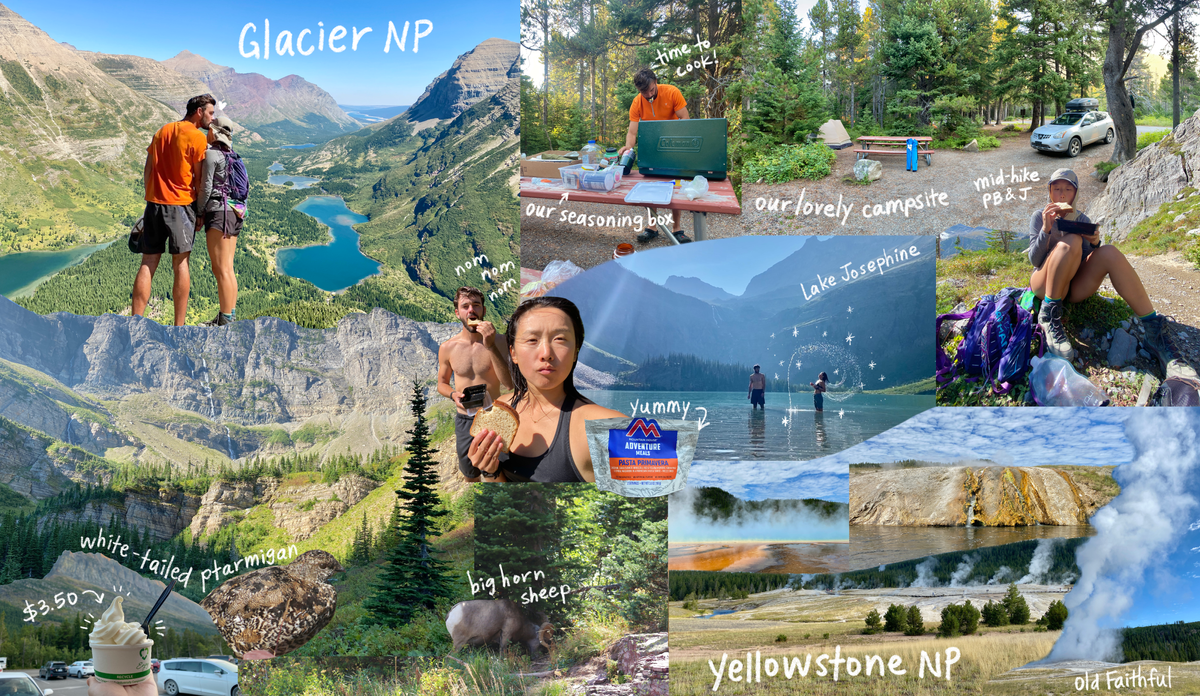 Day
Itinerary
(8/25/23) Day 20

6am - Breakfast, pack up
7am - Depart Campground and drive to Yellowstone National Park
9am - Arrive at Old Faithful Parking lot, walk a loop, watch Old Faithful erupt
10am - Grand Prismatic, Paint Pots, and Terraces
1:30pm - Depart Yellowstone, McDonald's, and Safeway (saw a huge herd of bison)🦬
9:40pm - Arrive at Many Glacier Campground, set up tent, get ready for bed
10:40pm - Go to bed

I visited Yellowstone National Park once before but Cam had never been. So we decided to stop by on our way from Grand Teton National Park to Glacier National Park. We saw our first couple of bison right off the exit that took us to the Old Faithful Parking lot which was so unexpected and cool. We walked around the area checking out the geysers and springs, and waited for Old Faithful to erupt. There was a lot of steam when it eventually happened so it was hard to see the water shooting up.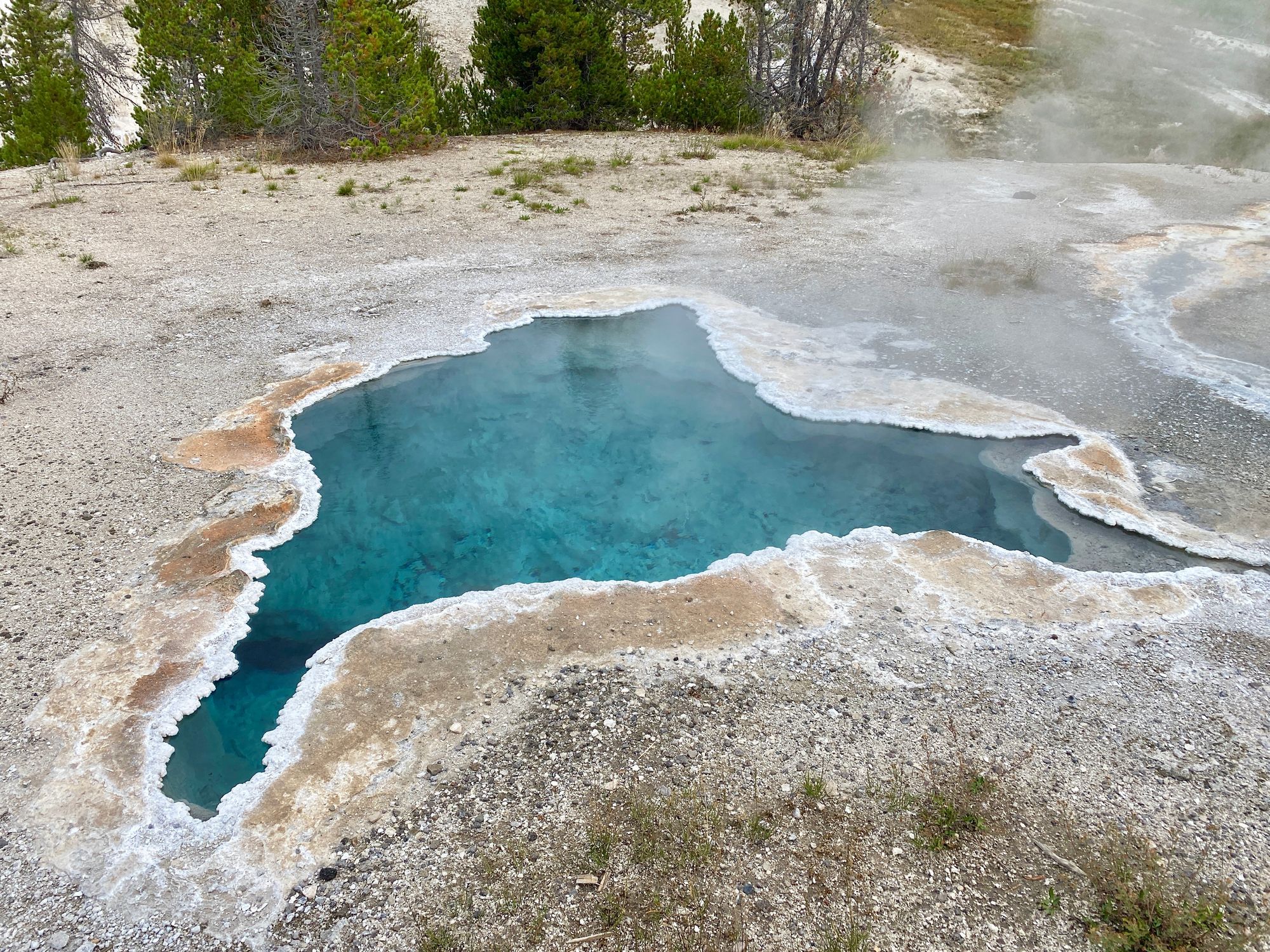 We visited several other attractions in the park before finally departing Yellowstone. I know this geographical region is very unique but I felt underwhelmed by our time there. Maybe it's because I've been exposed to so many pictures and videos of this place already that nothing was very new to me. Or maybe I just heavily prefer awesome hikes over geothermal features.
On our long drive to Glacier National Park, we stopped by Safeway to buy some groceries and even got some fried chicken (which hit super hard). When we got to the plains in Montana, we saw a huge herd of bison 🦬 just walking along the side of the highway. I couldn't tell you if they were wild or raised as livestock. They appeared so suddenly we barely had any time to realize what we were seeing.
Not going to lie, this travel day just felt off. I was tired, felt nauseous in the car, and wasn't in my default positive mood. I think the road trip bliss I had in the beginning wore off and the 'go-go-go' mentality had caught up to me. Being in the middle of nowhere for a large portion of the day didn't help either with my growing existential crisis🥴.
We got to Many Glacier Campground when it was pitch dark and we had a hard time finding our campsite. Silly us, we passed it twice before figuring out the empty one was ours.
Fun fact: This campsite reservation was the only one I wasn't able to get way ahead of time. Most (if not all) of the campsites I booked get reserved within a couple minutes after their release time. When I tried getting our reservation on rec.gov for Many Glacier Campground, all the campsites got booked so fast. Even the leftover ones that still appeared to be available after 10 seconds got snatched moments before I could. 😰 So for months leading up to the trip, I didn't know if we were going to have a place to stay when we visited Glacier National Park.
Luckily for us, the campground had some other campsites set aside that got released 4 days prior to the day you wanted to book. So on one of the mornings in Utah, I waited for them to get released and was able to snag the 3 nights we needed. 😅 Crisis averted!
Day
Itinerary
(8/26/23) Day 21

7am - Breakfast, get ready
9am - Hike Swiftcurrent Mountain (14.5mi, 2,690ft el gain, jumped in Bullhead Lake
4:30pm - Return to campsite, check out creek, eat dinner
6:30pm - Visit store, charged devices, ate ice cream🍦
9:30pm - Go to bed

For our first official day in Glacier National Park, we hiked Swiftcurrent Mountain. On our ascent, we passed by a few beautiful lakes and a tall waterfall that led out of a glacier. Overall it was a peaceful hike and the views were stunning. We reached Swiftcurrent Pass which was at the base of the last push before summiting Swiftcurrent Mountain.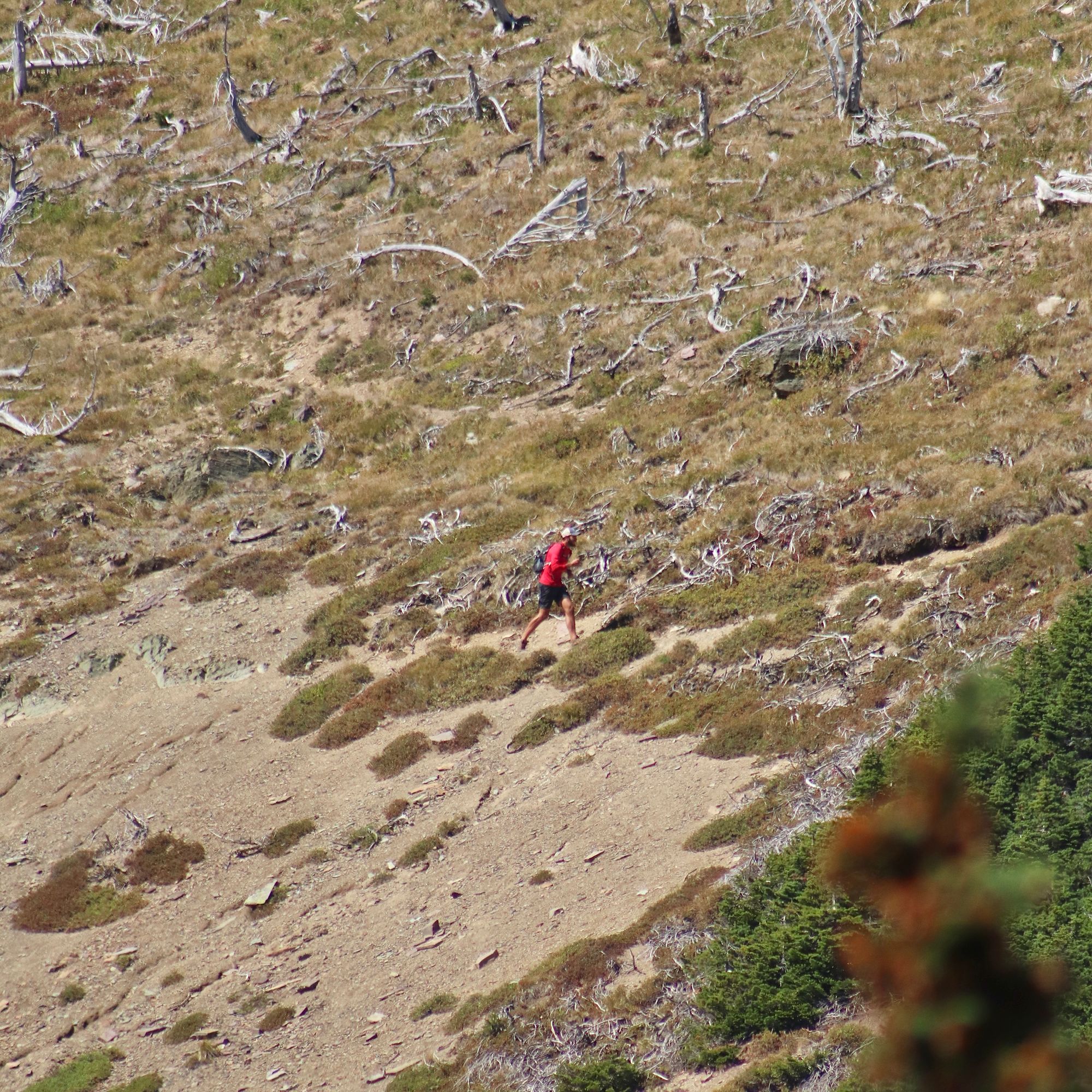 I really didn't want to keep hiking up but Cam did, so he ran the rest of the way up while I started my descent. On my way down, I spotted a white-tailed ptarmigan just chilling near some bushes. I took out my camera 📸 to snap some pictures and soon spotted a couple more. They were a bit wary of my presence but seemed to ease up a little when they saw I wasn't a threat to them.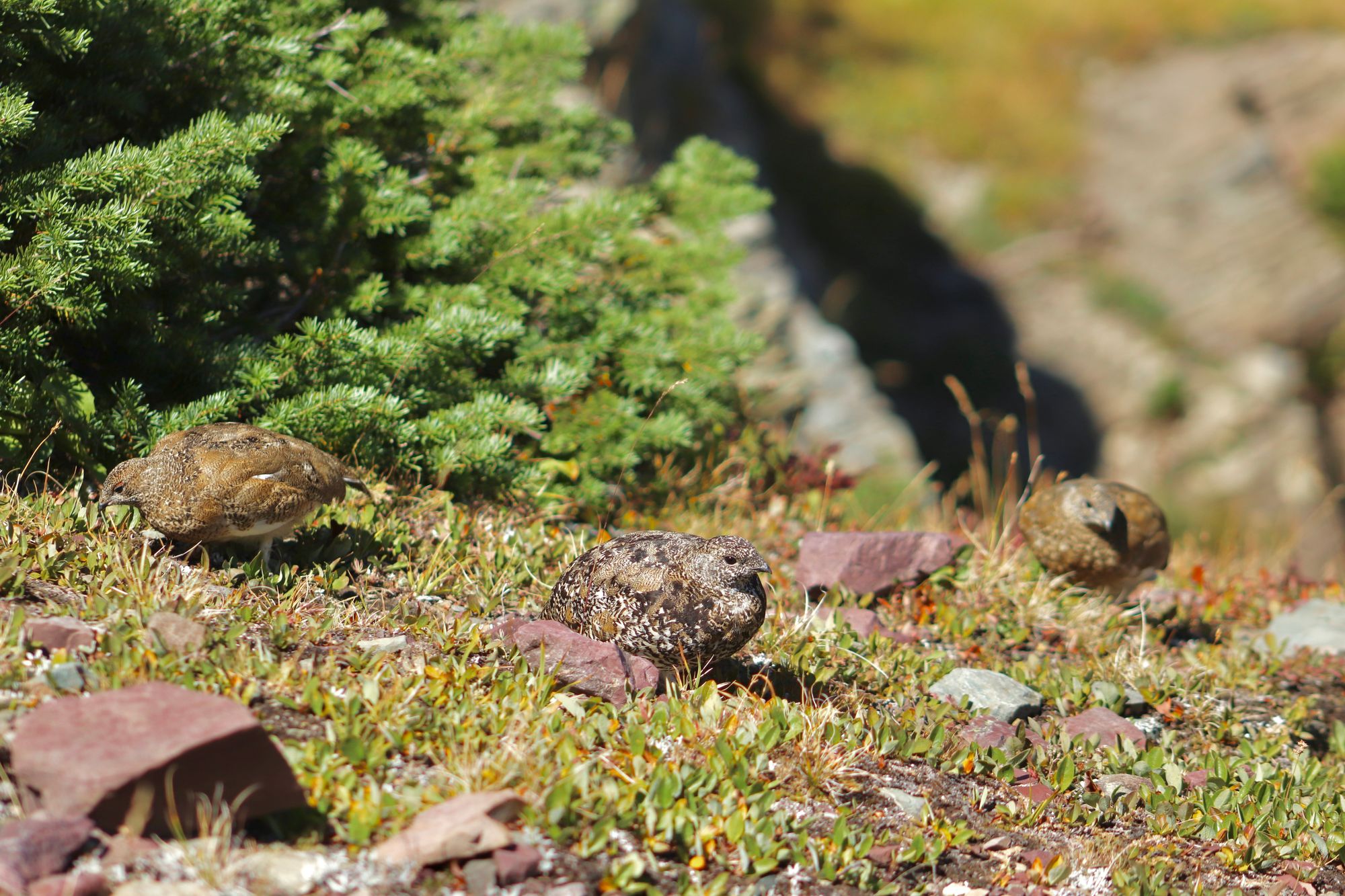 I must've taken at least 1-2 dozen pictures over the span of 5 minutes. I lowered my camera to admire them with my own eyes when all of a sudden, I saw something swooping in from the corner of my eye. It was a hawk! Within a blink of an eye, the white-tailed ptarmigan scattered as fast as they could, ducking back into the bushes. The next thing I saw was the hawk chasing after one of the white-tailed ptarmigan off to the other side of the mountain until they were no longer visible.
Both me and the remaining two white-tailed ptarmigan were too stunned to speak. My jaw dropped. I was in complete disbelief of what I just saw. It all happened so fast. This was some National Geographic shit! I looked around to see if any other hikers saw what I just saw, but no one was around.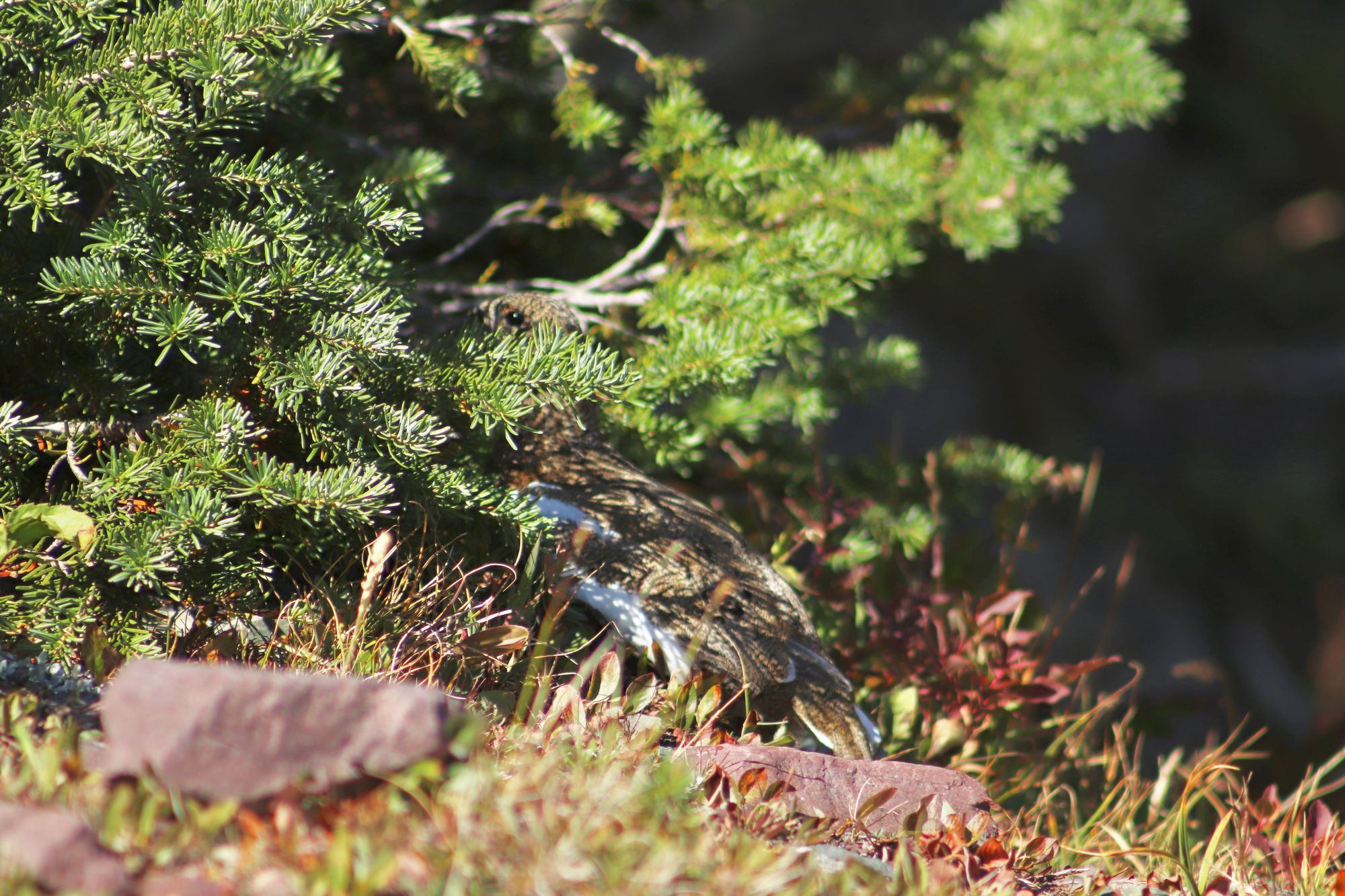 For a while, everything was still and silent. I just stared at the fluttering down feathers that were left behind. The two remaining white-tailed ptarmigan slowly came out of the bushes and started calling in distress with their necks stretched. I wasn't sure if they were calling for their third member or if they were just scared from the incident.
I spent another 5 minutes watching them scurry around with heightened alertness before they moved to an area where I couldn't see them. What a crazy moment to witness!
Cam caught up to me and we hiked down the rest of the way together. We stopped at Bullhead Lake to take a quick rinse too. When we finally got back to the campground, we went ahead and checked out the little store they had. Inside we found that they have soft serve ice cream! They had those cups you use at fro-yo places and you can load that baby up as much as you want for just $3.50! You bet we got some after we had dinner that night.🍦
Day
Itinerary
(8/27/23) Day 22

7:30am - Breakfast, relax, get ready
11am - Hike Grinnell Glacier and Wing Lookout 🌞 and to Josephine (jumped in) (14.4mi, 2,319ft el gain)
7pm - Return to campsite, relax, eat dinner
9:30pm - Go to bed

We started our hike to Grinnell Glacier a lot later than we had planned so we did most of the hiking in the afternoon. It got pretty hot and I was a tad irritable, especially after we missed a turn to take a less challenging trail. Oh well, I thought since we had already gone up so much past the turn, we might as well see it through to the top.
The hard work paid off because we were greeted with a glacial lake (called Upper Grinnell Lake) filled with broken off ice chunks. It was an impressive sight. We found a spot to rest, ate our PB&J's, and let our dogs (feet) breathe. The water looked a little murky but Cam decided to get in anyway and nearly ate it on his way in. He lost his footing on the slick rock but caught himself, so it wasn't as hard of an impact as it could've been.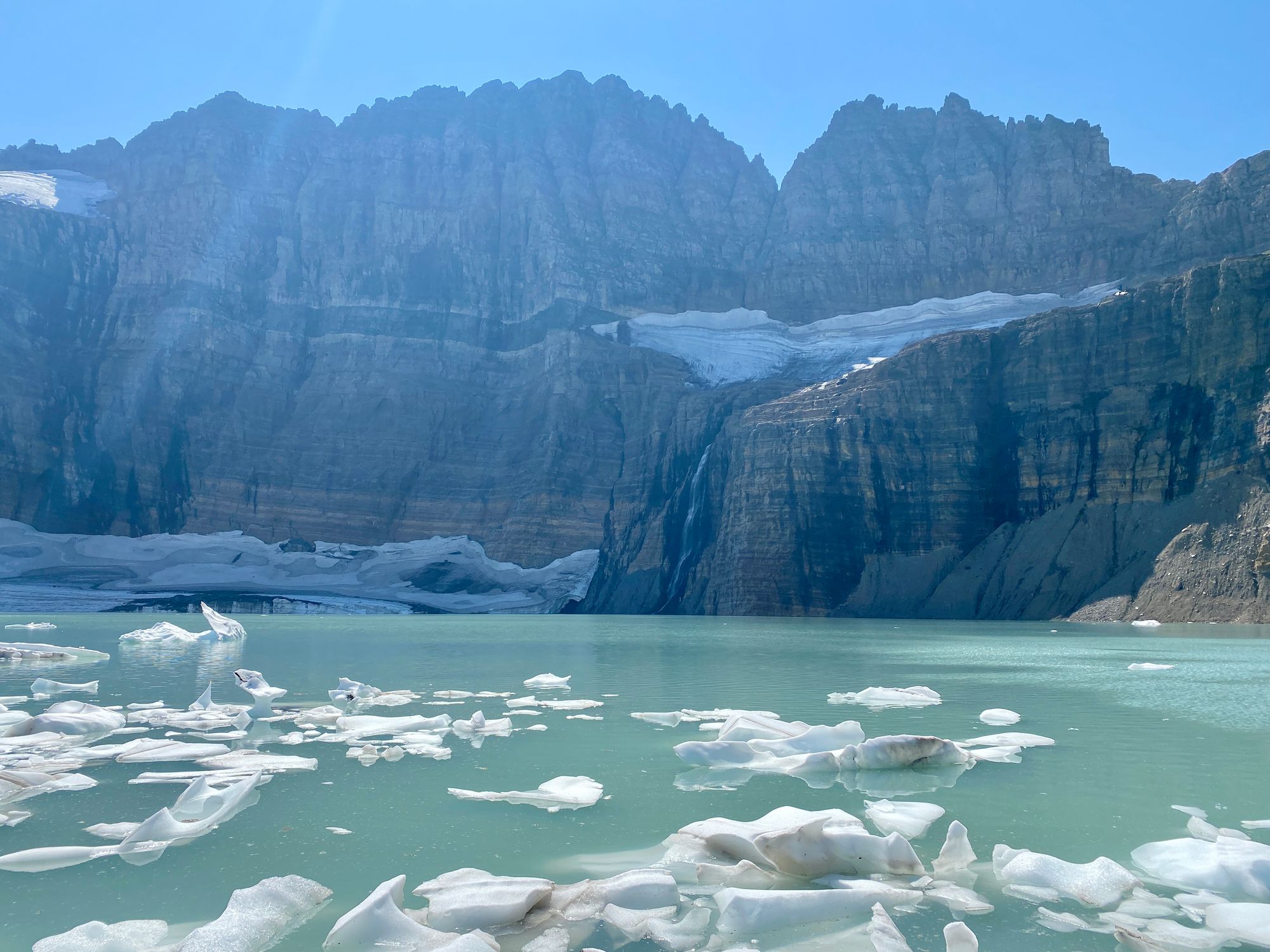 I'm all for cold plunges but I wasn't in the mood to get in some questionable looking water. On our way back to the campground, we took a detour to Lake Josephine where we both got in for one last rinse before we could take a proper shower.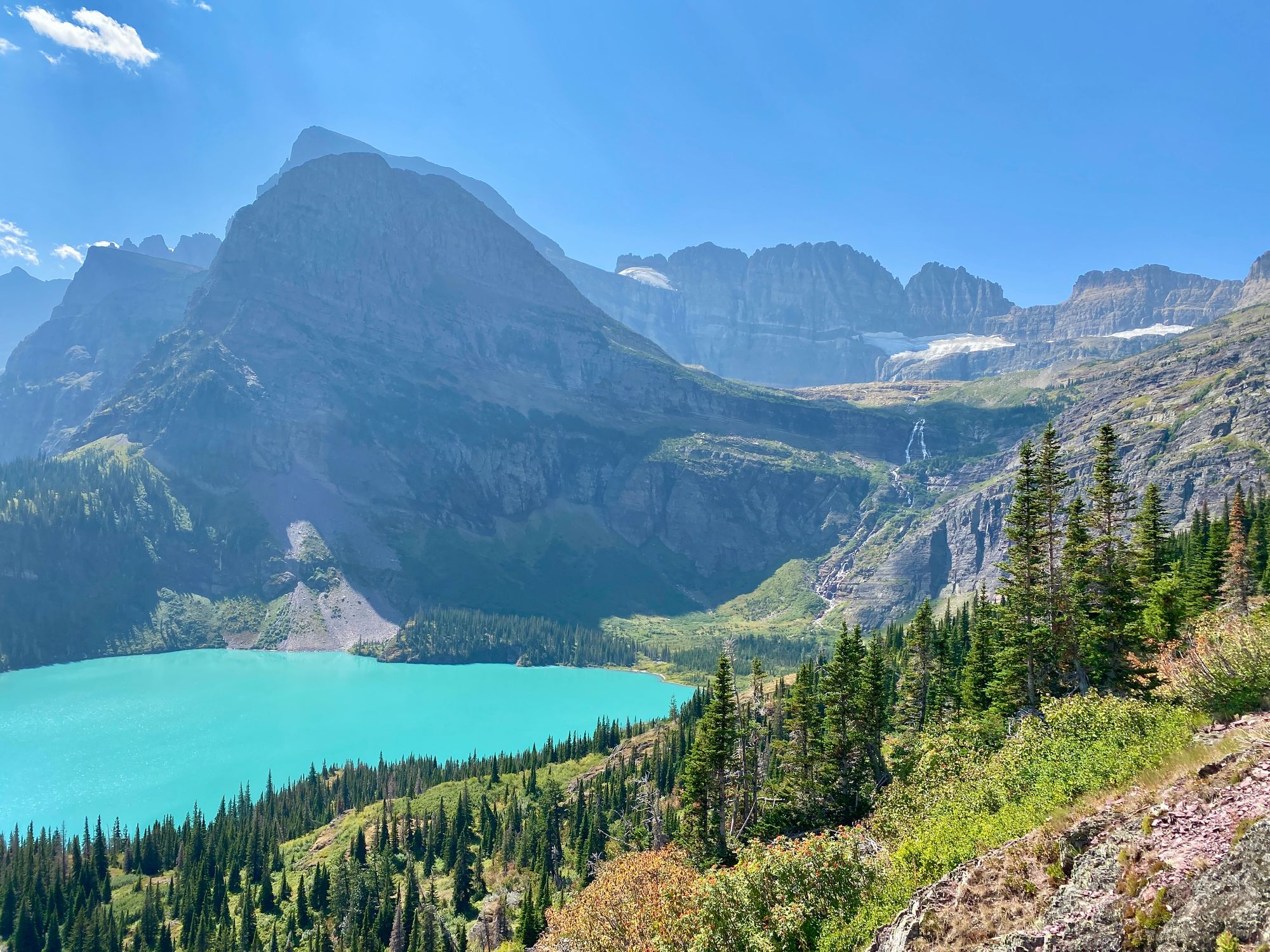 Glacier National Park was one of my new favorite national parks and I'll always remember the incident with the white-tailed ptarmigan. There are also a little more than a dozen long trails (25+mi) here so I want to come back to do some backpacking. The landscape is beautiful and it's not as crowded as some other national parks are too.
Next week, we're going to Canada🇨🇦! See you there :)