Grand Teton National Park
My boyfriend and I went on an amazing 6 week road trip this past summer. We drove from NC to CA and I want to share our travels with you. We've been to CO, UT, and now we've arrived in WY!
After an awesome time in Utah, Cam and I were on our way to Grand Teton National Park. We wanted to check out Jackson but ran out of time. We stopped by for gas though and it honestly looked like all the other ski towns we visited. It was cute and overpriced.
Grand Teton National Park was the start of a series of national parks I was particularly excited to visit on this road trip. As someone who has lived in California for most of her life, the idea of traveling all the way to states like Wyoming or Montana for just a camping trip 🏕 didn't seem like a very economical thing to do.
So I really wanted to take advantage of this road trip and hit as many spots that would otherwise be much more difficult to travel to for a one-off trip as I could fit in.
Day
Itinerary
(8/22/23) Day 17

2pm - Drive to Grand Teton NP
5pm - Check into Jenny Lake Campground, set up camp, make dinner, relax
9:30pm - Go to bed


(8/23/23) Day 18

7am - Breakfast, get ready
8am - Hike Lake Solitude via Jenny Lake Trailhead (19.79mi, 2775ft el gain), eat lunch, hopped in lake, picked raspberries, saw 2 black bears and 2 moose
5:20pm - Return to campsite, relax, make dinner
2pm - Make chili, chicken, pico de gallo
6pm - Dinner (chili, chicken quesadillas)
7pm - Relax, journal (Hedy), geology ranger talk (Cam)
9pm - Card game, stargaze🌌, and go to bed

Our first real day in the Grand Tetons was quite eventful. We both did our longest day hike ever and finally saw our first moose! We were hiking along Jenny Lake when all of a sudden we spotted a young moose around a bend headed our way, on the same narrow path. This moment was so surreal and I tried to balance letting myself be in awe 😳 but also cautious.
We backtracked and must've bumped into 8 other people before the narrow path widened into a larger space. The moose just followed us until we all stopped, then made a sharp right turn to head up into the mountain. I couldn't believe we got to experience that!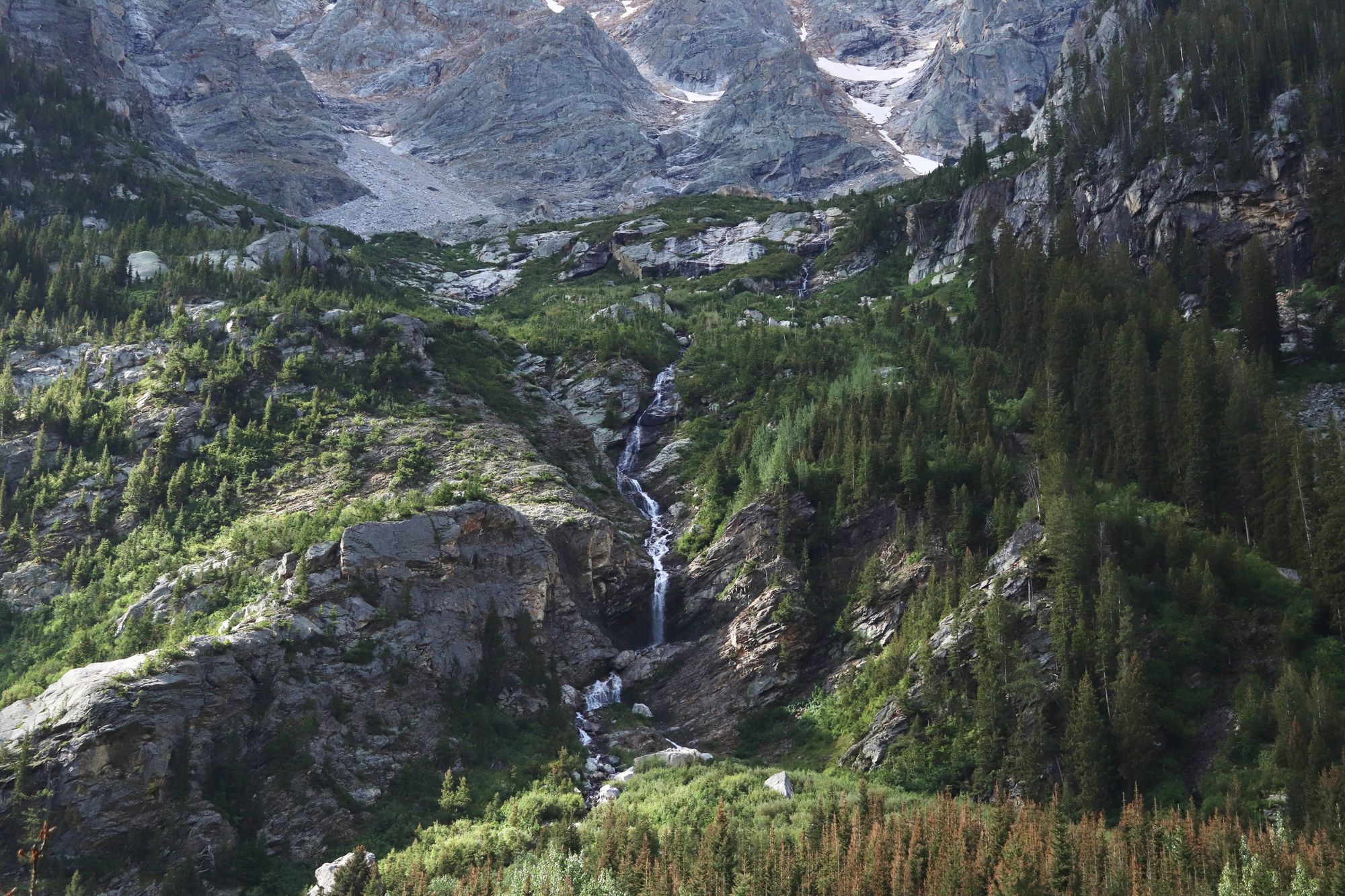 The hike was so beautiful too. We were surrounded by tall, jagged mountains that peeked in and out of the clouds, several waterfalls, and plenty of flora. We reached Solitude Lake and of course (you know the drill by now) we got in the water for a refreshing dip💦. I've noticed that there are always two types of people who stop at an alpine lake: people love cold plunges and people who watch others do cold plunges. *Cue the joke about the water being warm.*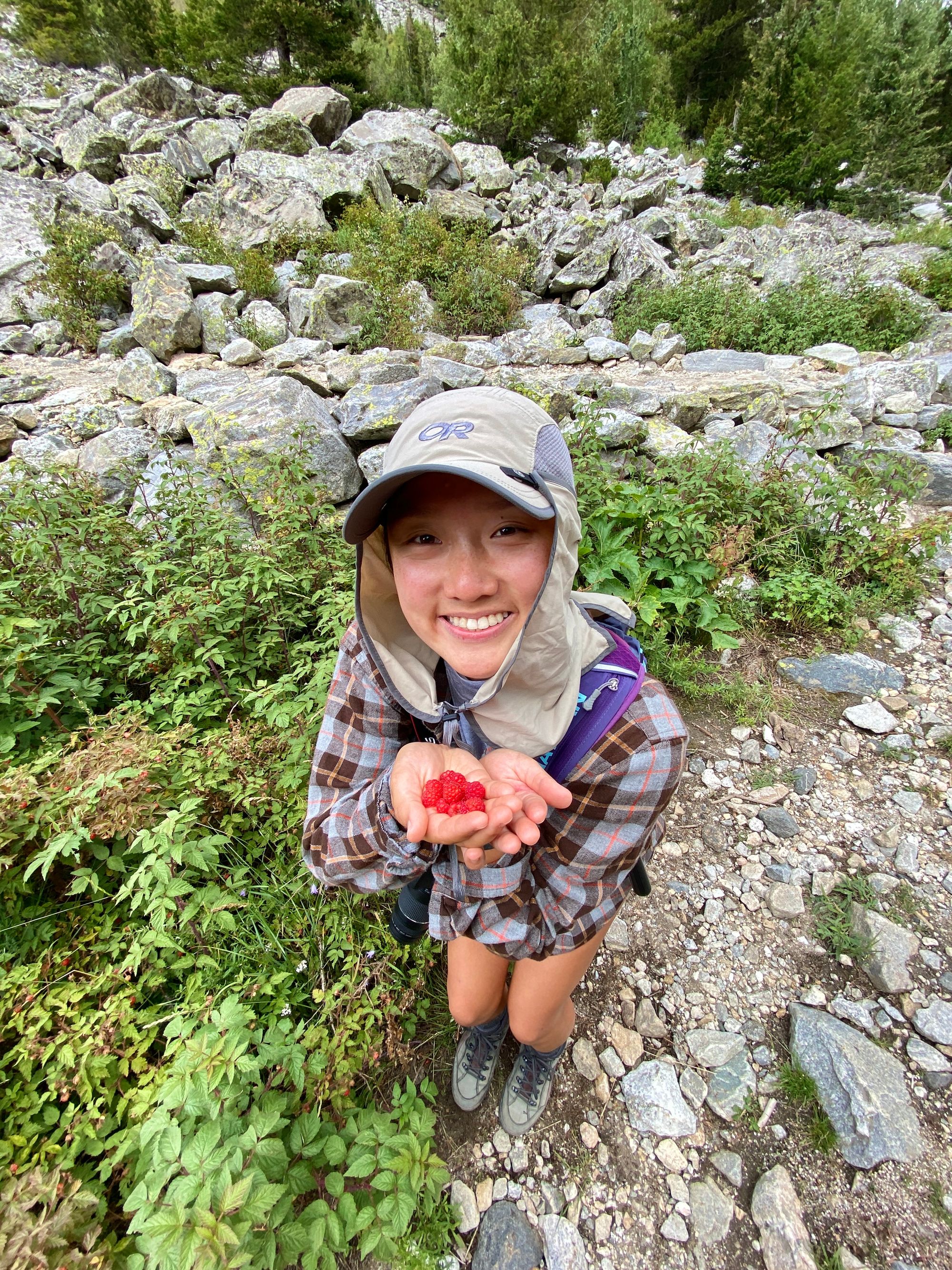 On the same hike, we saw another moose with a sizable rack, grazing in the distance, and a couple black bears 🐻 munching on berries. Cam had read in the national park newspaper that visitors are allowed to forage up to a certain amount so on our way down, I couldn't resist picking a handful of raspberries. They were quite sour but I guess that's just how wild raspberries usually are.
Day
Itinerary
(8/24/23) Day 19

8am - Wake up, breakfast, relax, read
10:30am - Explore Jenny Lake, swim, visitor center
1pm - Drive to Jackson Lake (swim, relax, read, journal)
4pm - Return to Jenny Lake
5pm - Dinner, clean up, and organize car
6:20pm - Card game🃏, saw a mule deer, relax
9:30pm - Go to bed

The original plan was to go to another part of the park to do some more hiking but we both were more than okay with having a relaxing swim day. Sometimes you just need a day to do nothing.
After checking out Jenny Lake, we drove to Jackson Lake, which was definitely more suited for people looking for a chill lake day. There was a lot more beach than at Jenny Lake and some people were paddle boarding, floating on tubes, and even wakeboarding. Cam and I spent the afternoon alternating between getting in the water then warming back up in the sun 🌞 while we read. It was time well spent.
The Grand Tetons were great. We both want to come back here for more hiking and maybe even some backpacking. One thing I thought was a little outrageous though was how expensive 💵 Jenny Lake Campground was. When I was booking campsites for this trip, I looked for convenience and wanted to stay at popular campgrounds. (I assumed they were popular for a reason.) So our stay here ended up being $160+ for 3 nights ($49/night, pretax).
For those of you who are unfamiliar with campground pricing (via rec.gov), the price for a high demand campground nowadays is usually less than $40 and campgrounds with less demand are closer to around $20 a night.
That being said, $49 for a night is pretty pricey. This fee didn't even include showers 🚿 which cost extra, and the walk to the restroom at this campground was by far the longest out of all the campgrounds I've ever stayed at. I'm generally alright with spending money when it comes to camping but this reservation made me feel like I was being robbed.
Campsites aren't getting any cheaper either and now that I've had some car camping 🚗 experience, I'm much more inclined to find free camping instead. Going outdoors shouldn't always mean needing to spend $100+ on accommodations that barely include any amenities.
And since we are already on the topic of trip expenses and this week's post is on the shorter side, I thought I'd put out another post later this week about our road trip budgeting and spending👩🏻‍💻. I know when I was preparing for this trip, I wanted an idea of how much we should expect to spend on food, gas, accommodations (etc). I also enjoyed tracking our spending to see what the cost of living on the road was like for us. Be on the lookout for this post!
Also, Happy Halloween! 🎃 Hope you've had an awesome spooky season.