Utah (Canyonlands NP, Arches NP, & Salt Lake City)
My boyfriend and I went on an amazing 6 week road trip this past summer. We drove from NC to CA and I want to share our travels with you. We're about 2 weeks in and entering the Utah portion of our trip.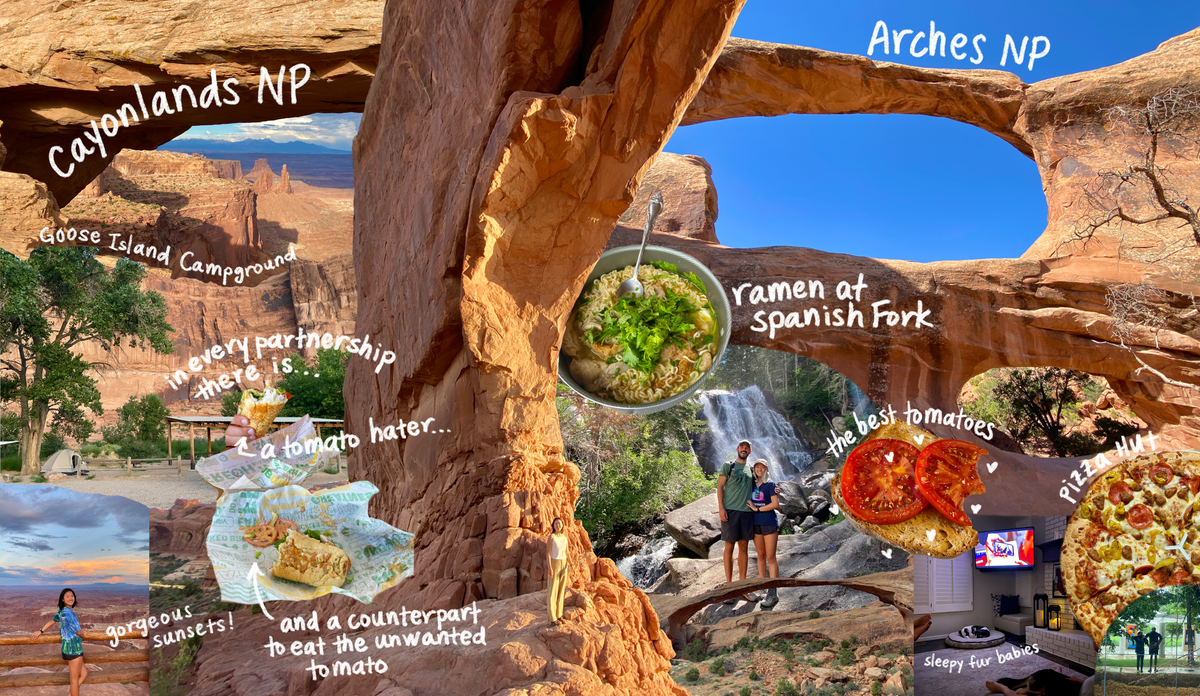 I didn't quite know what to expect from our time in Utah. A lot of the components of this part of the trip were put together haphazardly. Canyonlands and Arches were both last minute adds. We were originally going to just take our time traveling through Eastern Utah until we reached SLC since I thought 2 days wasn't enough time to really do anything. (Turns out it is.) Even our accommodations were changed less than a week prior.
Fortunately we weren't phased by any of it and just rolled with it.
Day
Itinerary
(8/18/23) Day 13

9:40am - Wake up, breakfast, shower, pack up
11:30am - Depart Vail
5pm - Enter and explore Canyonlands: Corona Arch, Mesa Arch, Green River Overlook, Buck Canyon Overlook, White Rim Overlook, Grand View Point, check out Visitor Center
8:15pm - Depart Canyonlands NP and drive to Goose Island Campground to camp🏕
9:50pm - Go to bed

We got into Vail quite late after the Red Rocks concert so we had a hard time getting up the next morning. An air mattress has never felt so comfortable or cozy. We would've gladly slept another 2-3 hours😴 if we had the time. But alas, we had to leave to make it to Canyonlands National Park before it got dark.
Canyonlands was the National Park we spent the least amount of time in and the only one where we didn't go on a hike. I honestly think 3 hours was perfect for what we wanted to see though. We just drove along Grand View Point Road and looked at every overlook we passed by. We went at a great time because it wasn't hot, there weren't many people left, and the vibrant colors from the sunset made the views even more stunning.
By the time we reached Goose Island Campground it was already dark. We found an empty spot, quickly set up our tent, brushed our teeth, and went to bed.
Day
Itinerary
(8/19/23) Day 14

6am - Breakfast, get ready, and drive to Arches National Park (timed entry between 7-8am)🌄
6:55am - Arrive and explore Arches NP: North and South Window Arch, Devil's Garden, Double O Arch, Visitor Center, eat lunch
12:30pm - Depart Arches NP and drive to Tie Fork Rest Area
2pm - Eat lunch at Subway🥪
6pm - Dinner at Spanish Fork park, frisbee
9:30pm - Set up bed and go to sleep

We were one of the earliest people to enter Arches National Park so it was nice beating the crowds and exploring while it was still cool. But the temperature soon changed and on our way back from Double O Arch, it was scorching. Cam was also a crazy person and walked on the hot sand barefoot👣 for a good portion of the hike.
I was so ready to crawl out of my skin. I would've gladly paid someone at least $10 for a cold drink🧉 or popsicle.
I know there were quite a few other spots we missed like Delicate Arch, Fiery Furnace, and Double Arch, but I was so done with the unrelenting heat🔥 and wanted to get the hell out of there. We'll definitely go back to hit all the spots we missed.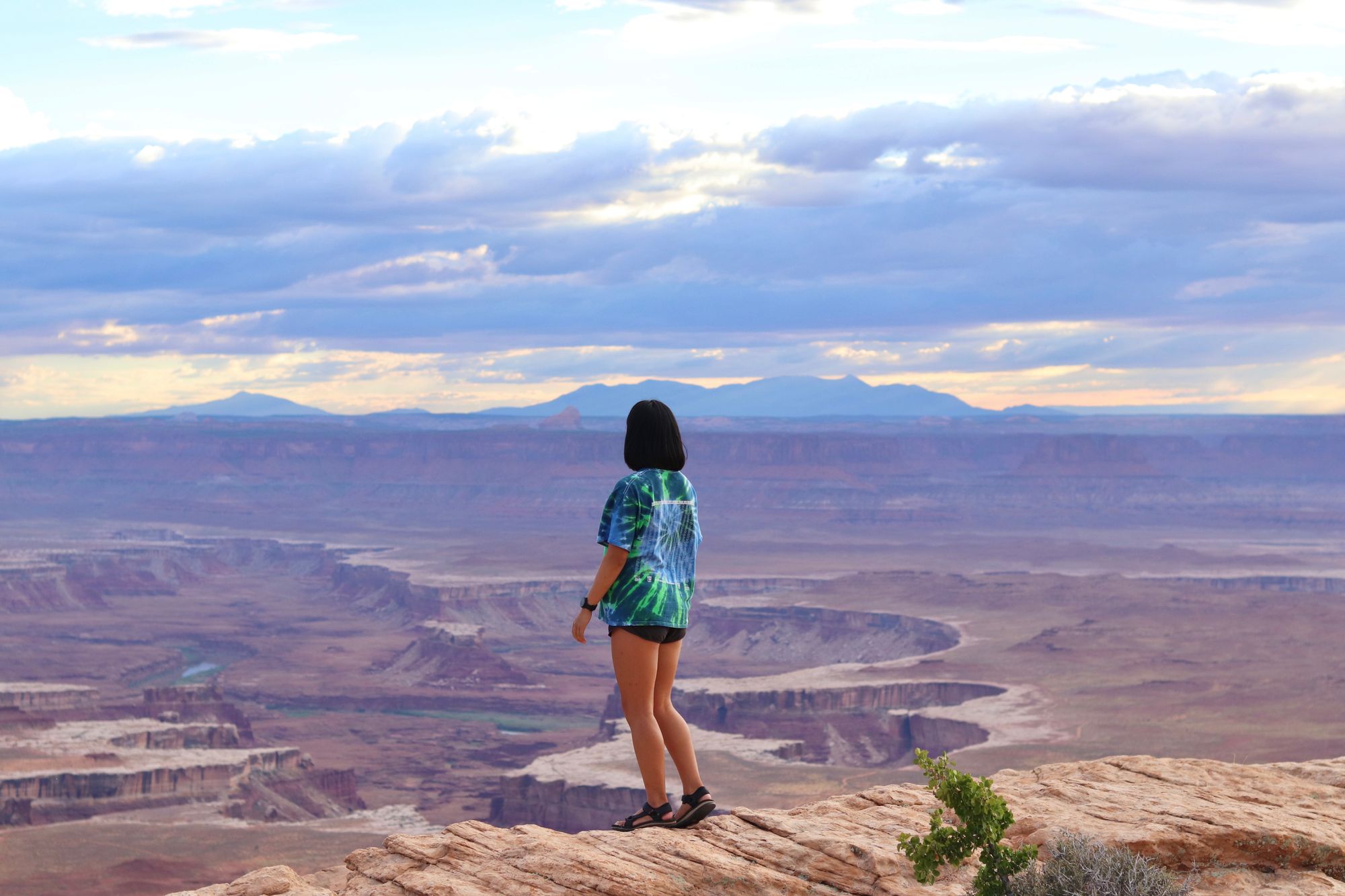 Day
Itinerary
(8/20/23) Day 15

8:30am - Breakfast, get ready
9:45am - Depart for Park City⛷
11:20am - Explore Park City
12:40pm - Lunch in the park and depart Park City
2pm - See East High (from High School Musical)🎶
2:30pm - Arrive at friend's place, get snacks, shower, catch up
6:30pm - Dinner (chips w/ queso, burgers🍔, potatoes)
8pm - Watched a movie
11pm - Go to bed


(8/21/23) Day 16

7:40am - Wake up, book Many Glacier campsite reservation, breakfast, chill
10:30am - Drive to and hike Bell Canyon Trail (5mi, 1,585ft el gain)
1:40pm - Go grocery shopping and eat at In N Out (first time eating In N Out outside of California, tasted like home)
2pm - Make chili, chicken, pico de gallo
6:30pm - Dinner, laundry, tour of trailer
8:40pm - Watched Ted Lasso ⚽ for the first time (Cam and I loved the show so much that we have since finished it)
11pm - Go to bed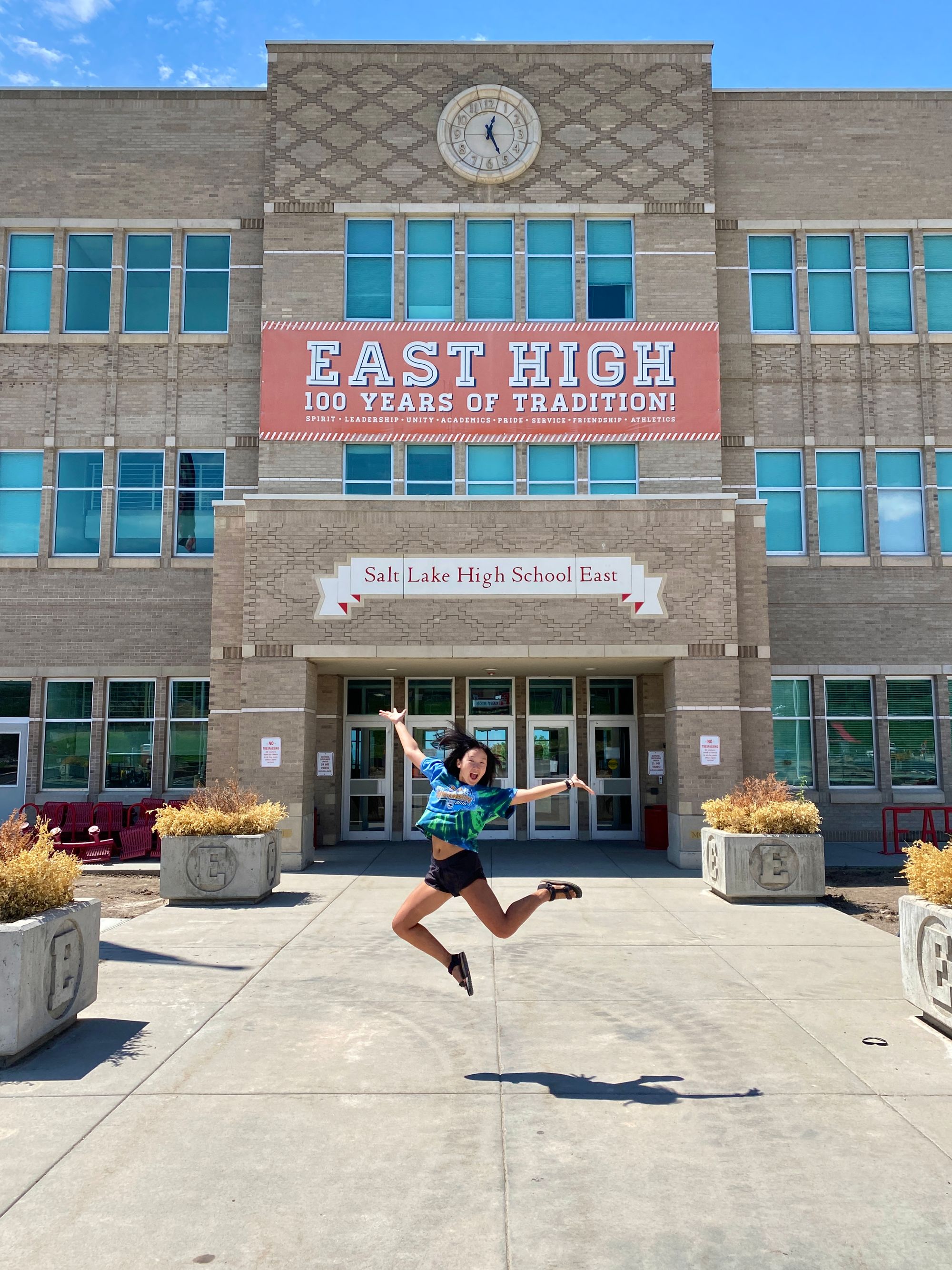 At this point in our trip, I think we were still barely contemplating working at a ski resort which was mostly why we went to see Park City. It looked like any other nicer ski town we've seen; There was a Main St with shops and restaurants, which was then surrounded by expensive houses. I thought it was really cool that Park City and many other ski resorts❄ were less than an hour away from the city. I don't know of any other place that has such amazing accessibility to world class skiing.
We originally had an Airbnb booked in Salt Lake City but we were lucky enough to cancel it and stay at a friend's place instead. Nothing super interesting happened during our stay but Cam and I had a great time. We enjoyed hanging out with our friend and his parents and playing with their dogs🐕. I loved eating their homegrown tomatoes🍅 because they were the tastiest ones I've ever had!
Our friend's parents also got a brand new RV, which we were able to get a tour of. It looked like a luxury apartment on the inside and I was at a loss for words. They'll definitely be more than comfortable on their long term travels.
Cam and I (especially Cam) weren't expecting to like Utah as much as we did. I think a lot of our fondness for this place came from staying with our friend and his parents. They just lived in a nice area, seemed happy, and had a lifestyle we thought was worth aspiring to attain. The amazing accessibility to nature for a variety of outdoor activities🥾 was also incredible.
Day
Itinerary
(8/22/23) Day 17

7:20am - Wake up, breakfast, pack up
9:20am - Depart, get gas
11:30am - Explore Utah State University
1pm - Eat Pizza Hut🍕, Water Research Lab

On our last day in Utah, we were going to pass by Logan, UT which was where my parents lived and went to school when they first moved✈️ to the US back in the 1980's. I wanted to visit this place so the last half day we were in Utah was kind of like a tribute to my parents'.
We saw which buildings they had classes in, the Water Research Lab where they spent a lot of time working, the exact house they lived in, and even ate the Pizza Hut they've repeatedly referred to as a 'once a week treat'. Seeing everything was all very exciting but emotional at the same time.
It was hard to think about the difficult times they had because of the language barrier and being tight on money. I also felt quite sad thinking about how they had no family or support system living in this new country, or had any idea when they'd be able to see their family again. They took the risk to create a better life by coming here, and just being in the space where it all happened got me choked up, because I know it wasn't easy for them. But you know what, all these years later, they made it through and I'd say they're pretty accomplished. They think they did pretty well for themselves too.
When we left, I felt a new level of admiration and empathy for my parents. They were extraordinarily courageous for what they did and I'm really proud of them.
Anyway, Cam and I loved Utah and want to go back, whether it's to just visit again or maybe even to move there. I can't stress enough how much we enjoyed this state. It even has In N Out! But moving on from Utah… we're headed to the Tetons🏔🏔🏔!