Summer Initiation
The start of a new and sunny chapter...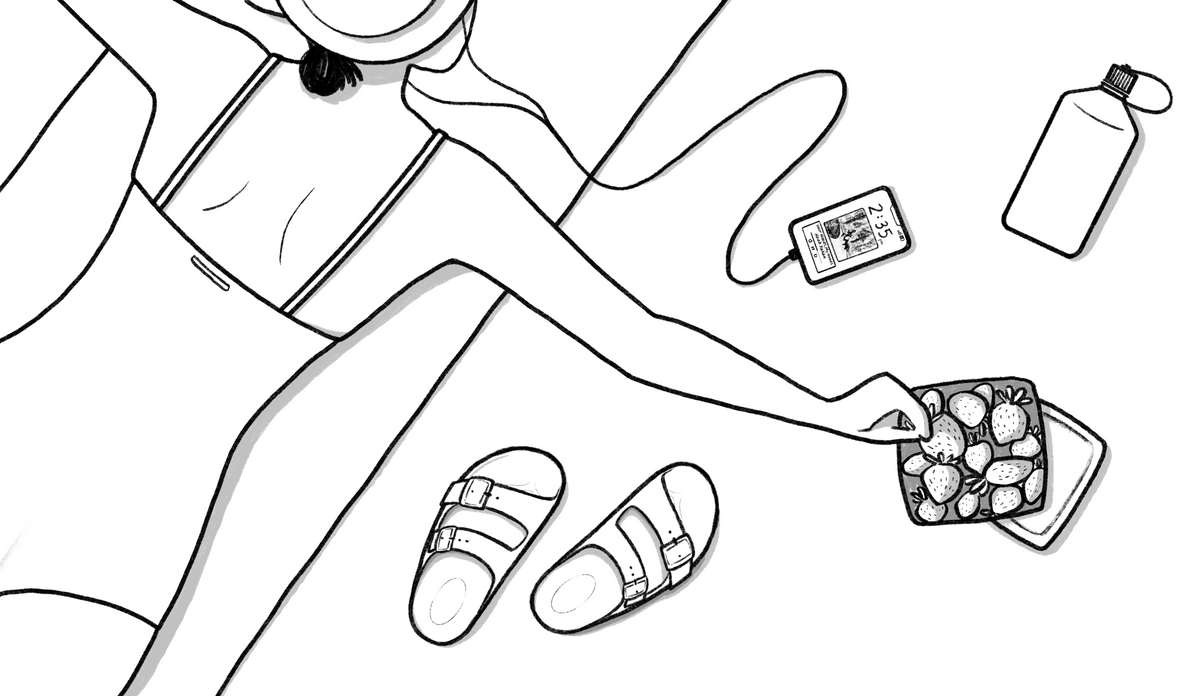 I "moved" to NC just over two months ago (for the summer) and honestly the decision to do it was the cause of a lot of the stress I wrote about in previous posts. So many logistics were up in the air and there was no real plan in place for this 3 month living situation (which people close to me had worries about). But as I kept reminding myself that my 20's are meant for taking risks and making mistakes, I was able to step out of my comfort zone to come out here.
I gave my boss a 3 week notice that I'd be moving, hoping that he'd let me stay on remotely for the summer (so I wouldn't need to find another job) but also keeping in mind that he prefers having someone in the office. He eventually responded suggesting I stay on until the end of May when we've hopefully on boarded a new EA for him.
Since that discussion, we've officially hired a new EA and he now wants me to stay on part-time through June to help with the transition.
For some context as to why I moved out here, my bf lives in NC. We've been doing long distance, on and off, for 2 years and I was just done with the distance. I also learned that I really like NC from the 5-6 visits I've made here. So why not spend the summer here before our road trip? (Yes, he's my road trip buddy.)
I've really been enjoying my time here, not putting pressure on myself, and simply enjoying the small things. Most days consist of a healthy mix of remote work, cooking, frisbee, a movie/show, and/or hanging out with friends. I also attended some graduation events in early May. Congratulations to the Class of 2023! It was a very celebratory couple of weeks but I'm very glad that time of the year is over because all the wrong kinds of pollen were in the air and my allergies made me feel half human.
Something relatively new I've been doing more of is playing disc golf. I went to a local disc golf course a couple times and though I'm not very good at it, I like it enough to want to improve. It's similar to regular frisbee in that you need to flick your wrist to launch the disc, but I still haven't mastered keeping the disc level or my aim. It's also a challenge to account for the trees in the way.
I think with more practice, I'll get better at leveling out the disc the way I want to and enjoy it even more. I also just like that disc golf is played outdoors.
In my spare time I've been learning to crochet a bucket hat. I followed a tutorial to the T for 2 attempts and each time the hat ended up too big. It eventually occurred to me that I should make some of my own changes to the tutorial and finally, on my 3rd attempt, I got the sizing right.
This project took me over a month to figure out and as happy as I am with the result, I'm just as happy to be done with it. I can't wait to wear it out this summer.
Something that really made me feel like summer's right around the corner was camping in the Smoky Mountains. This was my first time going and I was gobsmacked by how beautiful this place was. Everything was so green and lush. (I have never seen so many trees in one place in my life.) There were moments when I felt like I was in the PNW and then other times in Hawaii.
This trip to the Smokies, being the first camping trip I've gone on in 8 months, reminded me of what I want to do more of in life, which is to be outdoors. I feel so at peace and content when I can breathe fresh air, not look at a screen, be active, and have good company around. I know to some people this calling to be outdoors may sound trivial or something I should just save for my 10 days of paid vacation while I do a real job. But I think that kind of an existence is so sad and boxed in.
What can I say… I miss work that allows me to be outdoors and around cool people. I've sat at a desk, stared at a laptop, and done pretty meaningless work for over 8 months and I'm over it. Also, screw the fact that health insurance is used as a means to make an obscene amount of profit  in our capitalistic society. One of the biggest reasons why I have such trouble justifying living a more unconventional lifestyle that may be more true to me is it wouldn't provide me the safety net or funds to afford decent health or dental insurance.
You either suck it up and do a job you don't like to have those benefits, or live a life true to yourself without proper health insurance and the added stress of not being able to afford care if you get sick or injured. It's such a paradoxical situation and the more I think about it, the more I see how self-serving our country is… how self-serving our 'leaders' are and the people who hold the puppet strings. People just want to make a buck wherever they can and it's ruining the values of our society.
That being said, I'm making it a priority this summer to focus on enjoying life and not stress too much about the things people think I should be worrying about, like the next step of my career. From my experience, things that are meant to be, will happen and there's no point in forcing myself to do something if I'm met with a lot of resistance whether internal or external.
I just want to eat good food, have good company, be outdoors, be healthy, and be happy. I have a lot of fun things planned for the next few months and I'm so ready to have the best summer ever.