Road Trip Series
My boyfriend and I went on an amazing 6 week road trip this past summer. We drove from NC to CA and I want to share our travels with you. I'm posting a bit about our trip every Tuesday. You can see our itineraries and read personal insights on places we visited. Let the adventure re-begin!!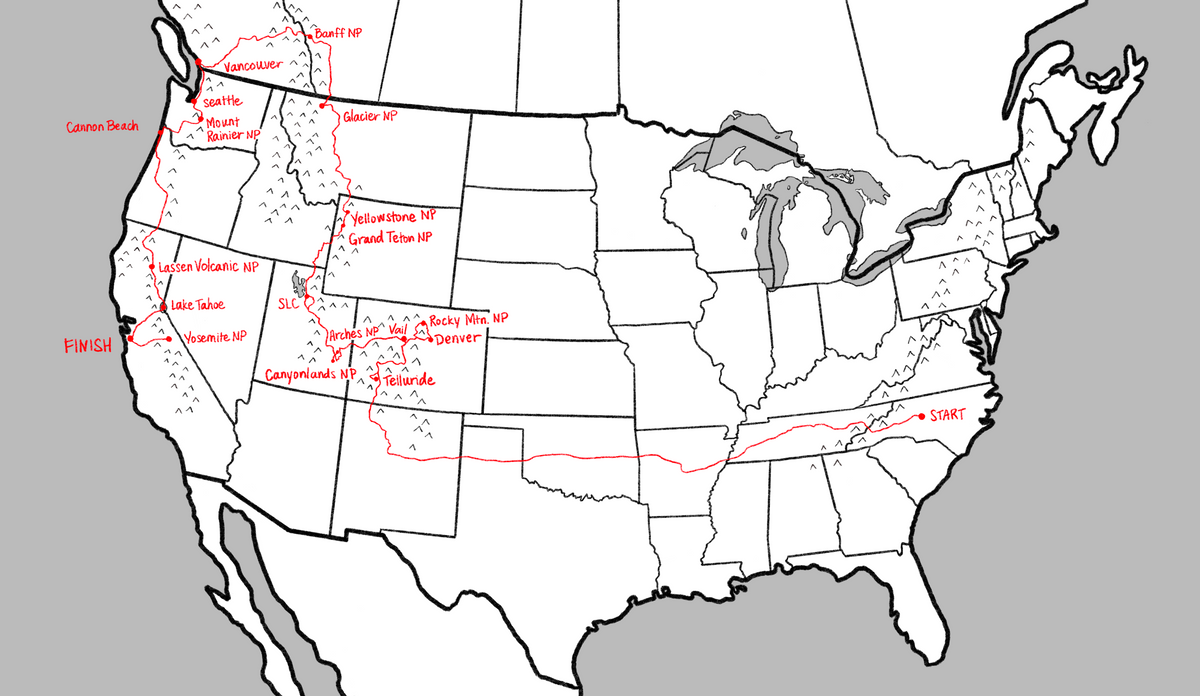 Welcome to my 2023 Summer Road Trip 🚗 Blog Series! My boyfriend and I went on a 6 week long road trip (8/6 - 9/21), and I'm finally finding the brain power to process and write about all of it for your reading pleasure. (Is it just me, or do big or unique experiences always seem like they were just a dream after getting back home? My brain would wonder, "Did this road trip really happen??")
We explored 7 Western US states and a couple spots in Canada, which made for a jam packed itinerary (too much to fit in one or even a few posts). So I've decided to divide the trip into 9 parts and you can see the breakdown below. I'll also sprinkle in tidbits about costs, the bingo card we had, and more. 🤭
Western Colorado (10/10)
Rocky Mountain NP & Denver (10/17)
Utah (Canyonlands NP, Arches NP, & Salt Lake City) (10/24)
Grand Teton NP (10/31)
Yellowstone and Glacier NP (11/7)
Canada (Banff NP & Vancouver) (11/14)
Washington (Seattle & Mt. Rainier NP) (11/21)
Norcal (Lassen NP & Tahoe) (11/28)
Yosemite NP (12/5)
To give some context as to how this road trip even came about, my boyfriend, Cam, and I love the outdoors and naturally wanted to see more of the Western US. We wondered a lot about if there's a town or city out there that would be a better fit for us than where we each grew up. We wanted easy access to mountains 🏔 and outdoor activities. And if we lived in a small town, we didn't want to be super far from a major city. Cam was also about to finish school and I wasn't particularly attached to the job I was working.
And so, with wanting to see if there's a place out there for us and explore more of the Western US, us being ready for the next chapter, a couple prepaid Red Rock concert tickets, and just enough courage to do something a little crazy, the idea of going on a road trip was born.
But we didn't simply pick a date and hit the road. Starting from last November (2022), we spent 9 months planning 🗺 this road trip. We first figured out where we wanted to go and what our timeline would look like, then began booking campsites and Airbnb's. I also researched which hikes we should do, what passes and permits we needed, and where we could find free parking in cities🏙.
Cam bought crossbars for the roof of his car and a $80 cargo box off of FB Marketplace so we'd have enough storage to bring everything we wanted to bring. He even built us a bed (frame) in the car for nights we didn't have a campsite or Airbnb. We figured out other minor details like what kitchenware to bring, and where and how things will get stored.
Planning and going on this road trip was a lot of work but I'm here to tell the tale. And I'm starting off with one of the coolest places we saw on the trip, Western CO! I'm so excited to share this road trip with you because it was so much fun. I'll be uploading a post every Tuesday here on my blog. If you don't think you'll remember to check back here, you can subscribe to my newsletter and get my post sent straight to your inbox 📥 instead.💙
"I'm really glad I'm doing this because if I wasn't or had the guts to do it, I'd probably feel a lot of regret later on in life." - from my journal 8/2/23 (4 days before the road trip)