Exploring Western Colorado
My boyfriend and I went on an amazing 6 week road trip this past summer. We drove from NC to CA and I want to share our travels with you. From NC we made our way to CO and spent the first part of our trip in the Rockies!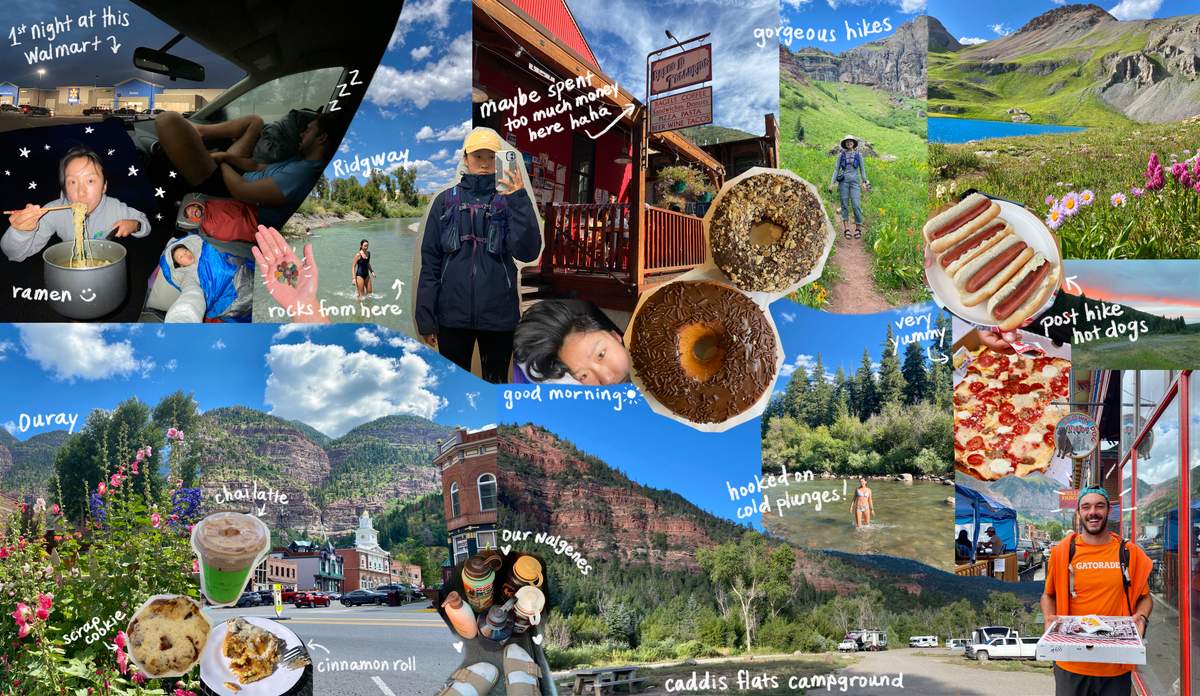 Despite having started the planning process (9 months) way before our departure date, we were still making last minute changes to our itinerary📑! For example, our original plan for the first week was to take our time driving from NC to CO, maybe even stop by Illinois to see family. But about 1 week before we were supposed to leave, we decided to scratch that plan, leave a day early, and book it 🚗💨 West so we could have 5 days to explore Western CO.
This change was a pretty big deal to me because we had no campsites reserved and were going to rely completely on finding free camping (something I'd never done before). We also had barely any idea on which places we should visit. Not to mention, I was going to be on my period for the first week which made me a little worried about hygiene.
And with all of this sudden uncertainty😬, we pulled out of Cam's parent's driveway that Sunday morning, and started heading West.
Day
Itinerary
(8/6/23) Day 1

7:45am - Depart Cam's house (blue skies, down pouring🌧)
8:15pm - Arrive at AK Rest Area, make dinner, get ready for bed, help a man with his propane stove (the original plan was to sleep here but we decided to keep driving)
9:25pm - Leave to go to Oklahoma
10:20pm - Arrive at OK rest area and set up car bed
12:30am - Leave OK rest area (it was too hot in the car, tried going to a different overnight parking spot but it was on a very muddy road, aborted that place, saw some huge crickets), these were some serious delulu hours😵‍💫
1:30am - Slept in a Walmart parking let and didn't set up the bed again (heavy rain and thunderstorm⛈)


(8/7/23) Day 2

7:40am - Wake up, brush teeth at Walmart
8:25am - Depart
11am - Rest stop near Rt 66 for lunch
12:20pm - Drive (strong winds in NM💨)
7:50pm - Stopped at park to make and eat dinner (ramen)
9pm - Drive to USFS Rd near Cuba,NM
10:30pm - Go to bed😴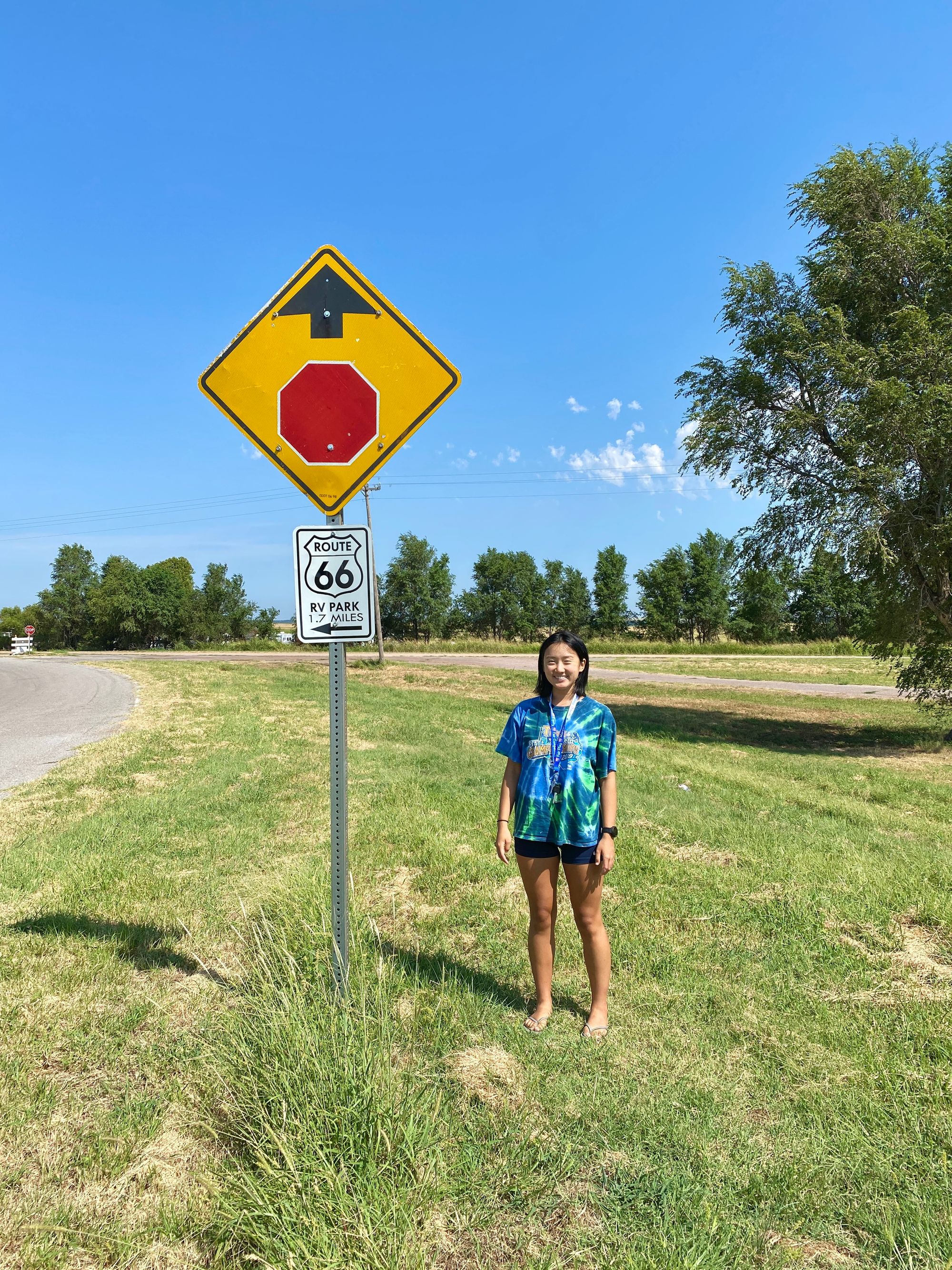 Day
Itinerary
(8/8/23) Day 3

7:50am - Wake up and depart
11am - Explore Silverton (a little underwhelming)
12:45pm - Drive to Ice Lake Trailhead and eat lunch
2pm - Hike Island lake and Ice Lake Trail via Ice Lake Trail (7.4mi, 2560ft el gain) (I've never felt more out of shape on a hike in my life.) 😮‍💨
"I was hiking so painfully slow and my heart rate was consistently at 150 bpm. My calves were also having a field day and just felt so pumped the entire way up." - from my journal 8/10/23
7:30pm - Make dinner, rinse feet
8:30pm - Find a free campsite along road and set up tent for the night🌌
9:30pm - Go to bed


(8/9/23) Day 4

6:30am - Wake up, pack up
7:50am - Drive to Ouray
9:15am - Explore Ouray (bought cinnamon roll, scrap cookie🍪, and chai latte, was a little touristy)
11:30am - Depart Ouray and go to Ridgway
12pm - Explore Ridgway (thrift store, got in the Uncompahgre River for our first rinse! Much needed and super refreshing💦)
4:15pm - Drive to Caddis Flats Campground🏕
5pm - Rinse in San Miguel River (2nd rinse!!)
6pm - Dinner, get ready for bed (someone driving by on the main road yelled to us to let us know a bear🐻 was coming, thankfully it turned away)
9pm - Go to bed


(8/10/23) Day 5

6:45am - Wake up, pack up
8am - Drive to Telluride
8:45am - Ride gondola, hike down, and explore the town (beautiful and super walkable)
12:45pm - Brown Dog Pizza🍕 (we got the Brooklyn Bridge and it was delicious), relaxed, charge devices and ate donuts🍩 at Baked In Telluride, continued exploring town
8pm - Dinner, set up bed in a parking lot
9:30pm - Go to bed (we tried waiting around to catch up with an old friend who ended up not being free)


(8/11/23) Day 6

6:45am - Wake up
7:45am - Donuts at Baked In Telluride, buy hot dogs🌭 from grocery store
8:45am - Pack up car
9:45am - Depart to Blue Lakes Trailhead
12:10pm - Hike Lower, Middle, and Upper Blue Lakes via Blue Lakes Trail (9.17mi, 3,018ft el gain)🥾, we were supposed to hike to Mt. Sneffles but there wasn't enough time due to our delayed start
7pm - Return to car, make dinner, organize car
8:20pm - Drive to rest area, stop in Ridgway to use bathroom🚻
12am - Arrive at Gunnison rest area, set up car bed, and go to sleep (Cam drove the whole evening and I was so grateful)


(8/12/23) Day 7

7am - Wake up, pack up
8:15am - Depart and explore Leadville (a hub for intense athletes, saw some early finishers of the Leadville Trail 100 MTB 🚵🏽‍♂️)
1pm - Depart Leadville and eat lunch at McDonald's
3:45pm - Explore Vail, meet up with Cam's Uncle, CR
6pm - Go to his place to shower🚿(our first) and get ready for dinner
7:30pm - Have dinner at Fall Line (It was a fantastic dinner🍽, thank you CR!)
11pm - Go to bed (We were so full and tired by the end of the day.)

We've heard so many great things about Western CO and our visit was far from disappointing😍. The scenery, hikes, and nature completely surpassed our expectations. I can't put into words how beautiful this area was so I'm just going to let the pictures do the talking. If you're like me and love being in the mountains, you have to go check out Western CO.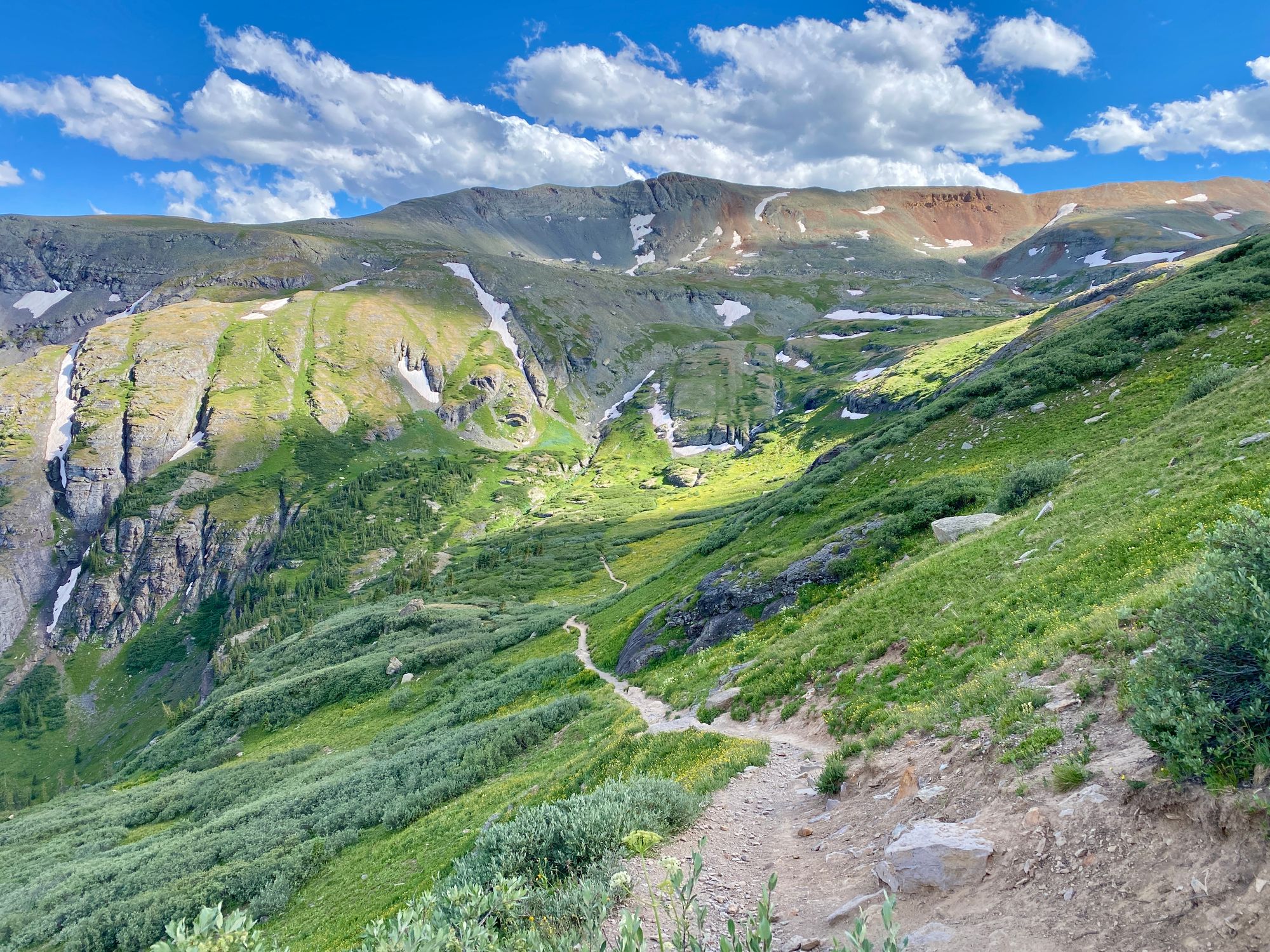 There's something very comforting about being in the mountains⛰. These huge walls and masses of Earth have been tested by pressure, all kinds of weather, and time (like millions of years). Then there's little me, who probably couldn't even survive a single snow storm. My existence feels totally inconsequential (in a yolo, non self-deprecating kind of way) whenever I'm in the mountains.
I originally planned for us to hike Mt Sneffels, which would've been our first 14er. (How could we visit CO and not hike a 14er??) But since we delayed our start time in hopes of seeing a friend, we just didn't have enough time to hike the whole mountain before dark. I'm a bit bummed about it but the hike was still awesome!
There were plenty of wildflowers and a few beautiful lakes. We even decided to get in Upper Blue Lake which was by far the coldest water we've ever been in.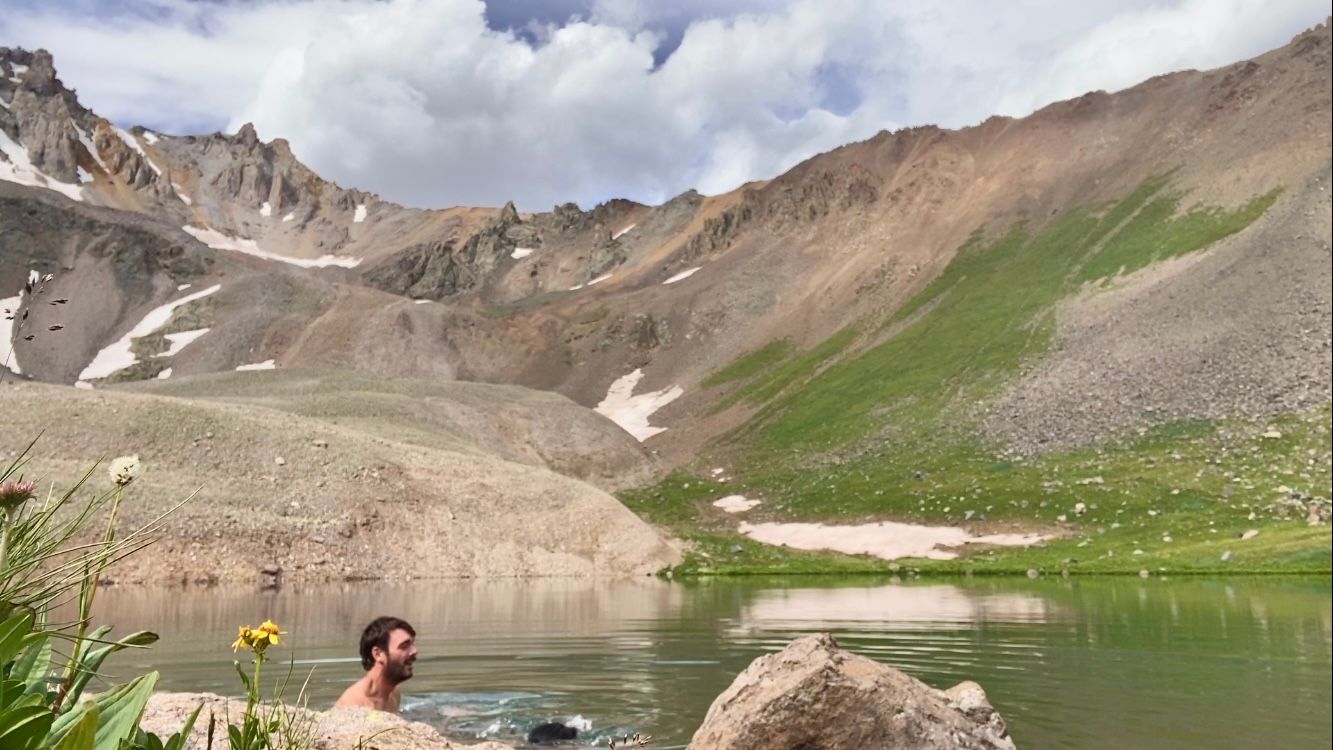 "I eventually got back in and everything still hurt. I really contemplated backing out because all of my survival instincts kicked in and were telling me this was a bad idea. And then I just heard Cam countdown. When he got to 1, I submerged myself despite all of my inner dialogue telling me not to. When I got out, ooo boy EVERYTHING was hurting. I was wheezing in pain." - from my journal 8/13/23
Between the hikes and beautiful mountain views, Cam and I had a lot of fun visiting several mountain towns (Ouray, Ridgway, Telluride, Leadville, and Vail). We loved the proximity to outdoor activities and enjoyed the small town feel each place offered. But as much as we adored these aspects of them, when it came to thinking about if we could see ourselves living in any of those places long term, we felt that they were just too remote for us.
Attending major events, traveling, and running certain errands would be a lot more difficult. The number of job opportunities would also be significantly lower in these places. I guess that's the trade off some people choose to take🤷🏻‍♀️.
Obviously, there were several things that didn't go to plan this first week, like our first night or waiting around in hopes to see a friend who didn't end up being available. But I'm happy to say that none of these hiccups really phased us. In fact, it seemed like when things didn't go according to plan but still turned out fine, the trip felt even more exciting.
This happy-go-lucky attitude definitely carried throughout many parts of the trip. And since it was especially strong this first week, Western CO was a truly blissful experience. There's still so much left to explore in this area so we'll definitely be back in the future.
As for my worries about hygiene, the rinses were enough for me to get by and it ended up not being a big deal. I'm very glad this issue turned out a lot better than I expected.
For our next stop, we headed slightly east to Rocky Mountain National Park and Denver!