Rocky Mountain National Park & Denver
My boyfriend and I went on an amazing 6 week road trip this past summer. We drove from NC to CA and I want to share our travels with you. After exploring Western CO, we headed East and experienced Rocky Mountain NP and Denver.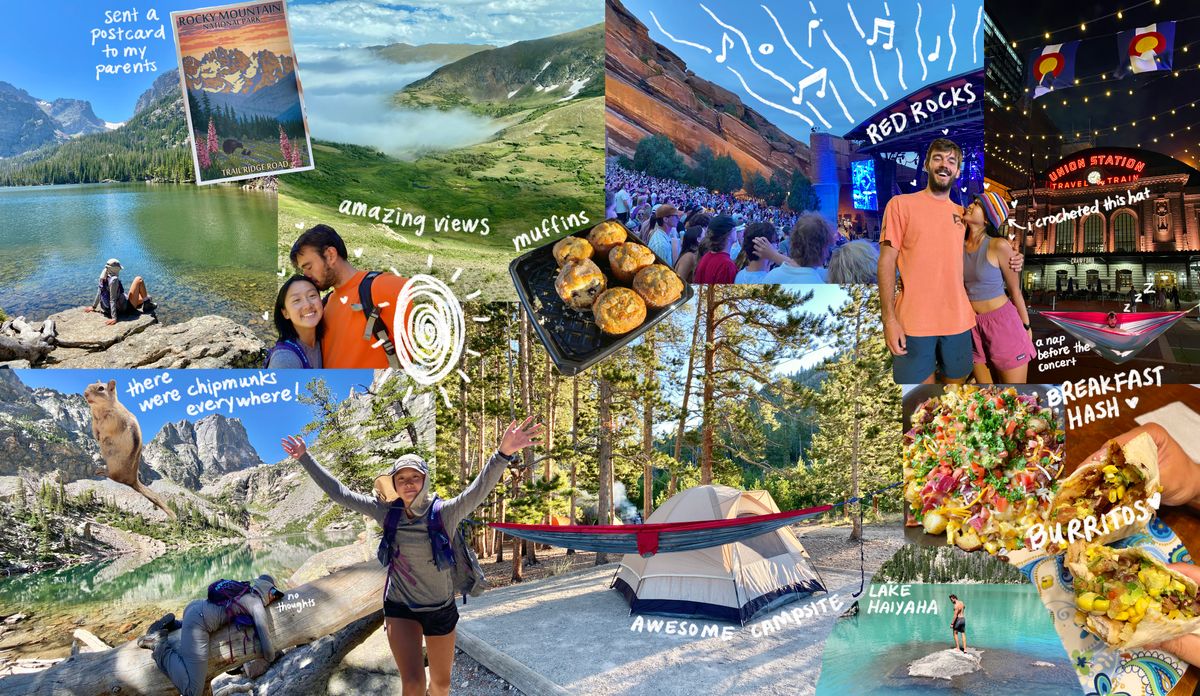 In my last post, I mentioned how we had changed our plans for the entire first week of the trip. We spent most of our time exploring Western CO instead of slowly driving across the US. Well, after we finished exploring Western CO, we gradually merged back to the original plan we had.
Day
Itinerary
(8/13/23) Day 8

7am - Wake up, pack, and eat breakfast
8:20am - Depart Vail for Winter Park (WP)
11am - Walk around Winter Park Resort, hike to Sunspot (short but super steep)🥾
1pm - Grocery Shop
2pm - Drive to Rocky Mountain National Park, stop at Alpine Lookout📷
5:15pm - Check into Glacier Basin Campground, make dinner, set up, relax
9:30pm - Go to bed

I worked at Winter Park Resort between Nov 2021 - Feb 2022 as ski school support staff and as FOH staff at a brunch restaurant. I really enjoyed skiing there and will always have fond memories of the place, but I think the overall living environment wasn't my style. We were going to pass through WP on the way from Vail to Rocky Mountain National Park, I thought we'd go visit.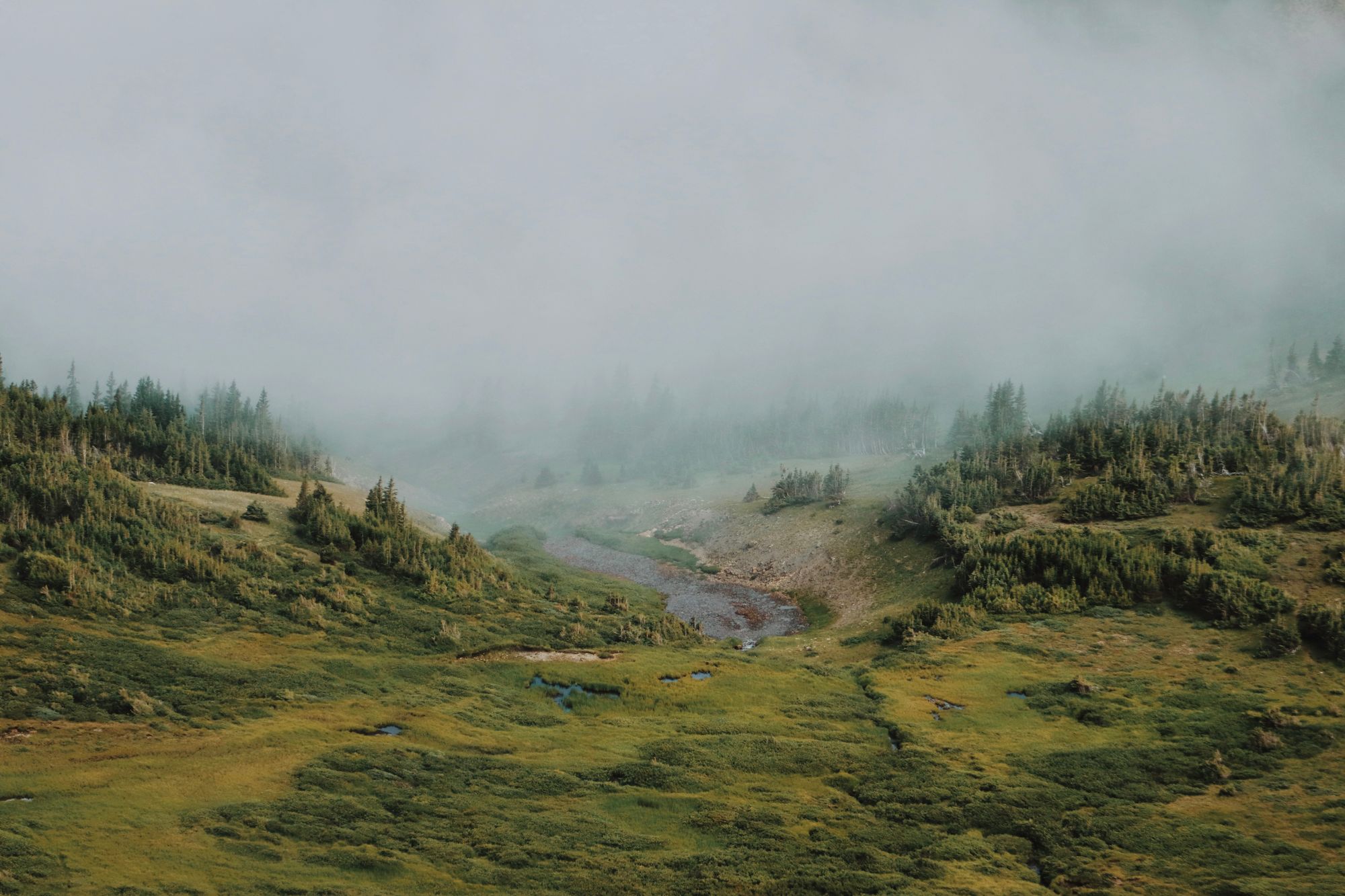 Day
Itinerary
(8/14/23) Day 9

7:20am - Wake up, eat breakfast, get ready
9:30am - Catch shuttle to hike Lake Haiyaha/George Trail (9.51mi, 2191ft el gain), have lunch on the hike (jumped into Lake Haiyaha, met some cool people)🩱
4pm - Get back to campsite, journal (Hedy), run (Cam)
5pm - Dinner
8pm - Go for a walk
9pm - Games🃏, read, and go to bed

We really liked Rocky Mountain National Park and would like to go back in the future because we didn't have a lot of time to see much of the park. We were there for only two nights which gave us just one full day of exploring.
I must say, going from hiking in remote parts of CO to hiking in a national park was a stark change. The first few miles of the trail we hiked were packed with people. At any given section of the hike, we could see at least 5 people and hear 5 more in the distance. Don't even get me started about places that had a viewpoint. The crowdedness made us miss and appreciate hiking in Western CO much more.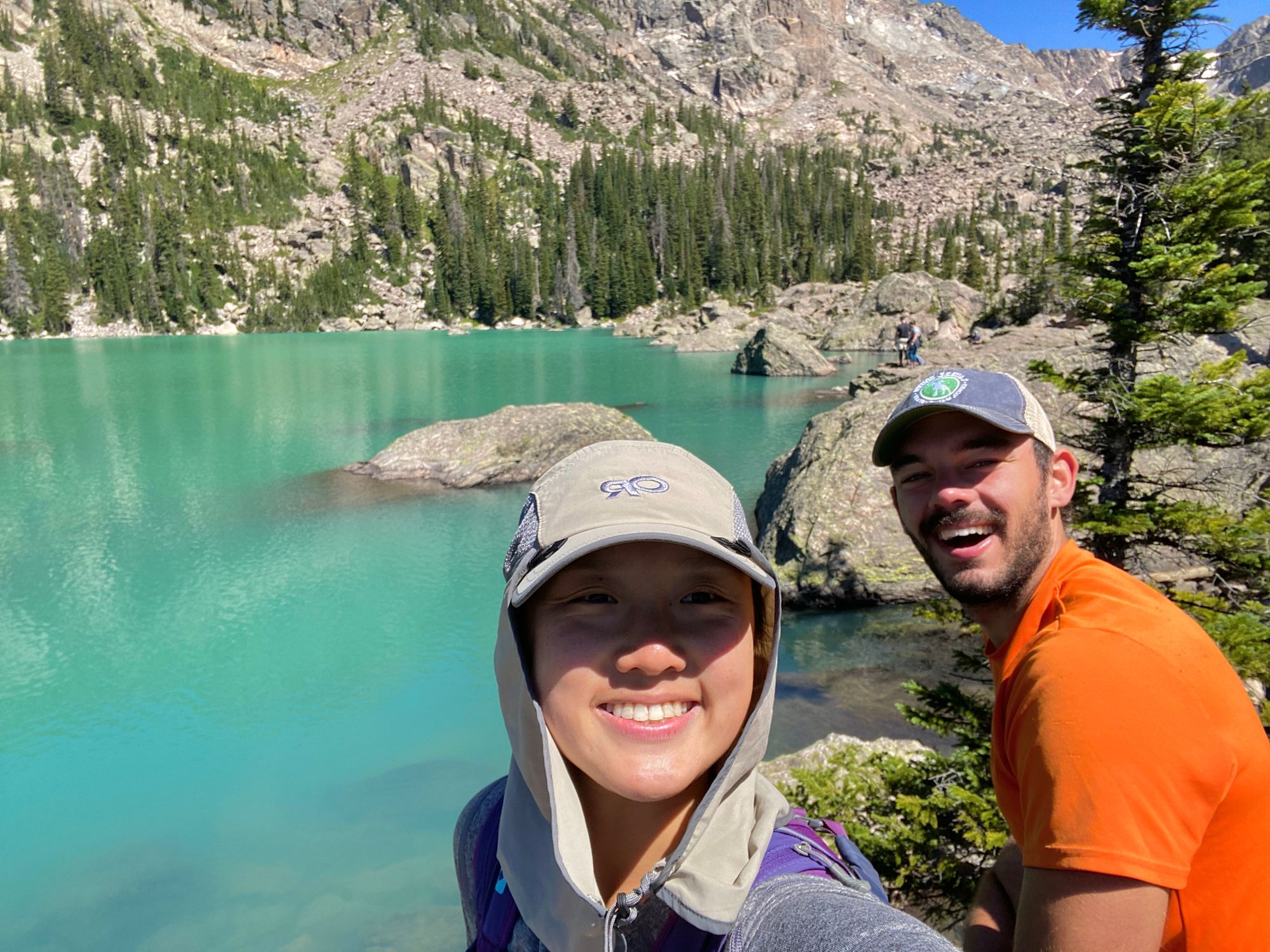 We eventually got through the crowds and made it to Lake Haiyaha. Cam and I jumped and swam in the lake, and even convinced some people who were hesitant to do the same. There was a lot of encouragement, stepping out of comfort zones, and laughter going on. The whole interaction was very serendipitous and it was probably the highlight of our time in Rocky Mountain National Park.
Day
Itinerary
(8/15/23) Day 10

7am - Wake up, pack, and eat breakfast
9:20am - Depart for Boulder
10:45am - Explore CU Boulder (Cam was really interested but I gave up after 10 minutes. It was just so hot and sunny!🥵), REI, picked up Designer Wellness products
3:30pm - Arrive at Airbnb, grocery shop, shower, and make dinner 😋
6:30pm - Eat dinner, relax
11pm - Go to bed

"I had all these plans of hiking in the Flatirons area, exploring Pearl Street, and spending a whole day around downtown Denver. All of that went out the window. I wanted nothing more than to eat some home cooked food and be a couch potato." - from my journal (8/17/23)
I was not expecting it to be so hot in Denver and our check in time to our Airbnb couldn't come fast enough. I didn't care to do any more exploring and just wanted to be clean, well fed, and relax.
Day
Itinerary
(8/16/23) Day 11

7am - Wake up, catch up on recording expenses👩🏻‍💻, relax
8:15am - Oil change (Cam), make breakfast (Hedy), eat, watch TV shows, games, run (Cam)🏃‍♂️, (there was high of 95F so we didn't feel like doing too much)
8pm - Go to downtown Denver (very underwhelming)
10pm - Get back, food prep🔪
11:30pm - Eat dinner, relax
12:30am - Go to bed


(8/17/23) Day 12

8am - Wake up, pack, and eat breakfast
11am - Depart Airbnb
12pm - Arrive at Beaver Park⛅️, relax, read, nap, journal, have a small dinner (we didn't have a plan for the day really and just wanted to find some place to relax and do nothing)
5pm - Depart for Red Rocks
7pm - Mt. Joy Concert at Red Rocks🎶
11:20pm - Depart Red Rocks to go to Vail where Cam's uncle lives(there was standstill traffic because of construction)
1:30am - Go to bed (so exhausted)😪

We bought these Mt. Joy concert tickets back in Sept. 2022. Cam loves them and I enjoy their music too. (Favorite songs, Cam's: Silver Lining, Hedy's: Jenny Jenkins) When we thought about how we'd make it out to CO for this concert, the idea of going on a road trip came up. So if it weren't for these Mt. Joy concert tickets, we probably would've never gone on this trip.
Cam and I were really looking forward to seeing the Red Rocks Amphitheater for the first time because we had heard a lot of amazing things about the venue and it seems like almost every artist that performs there says it's their favorite place to perform at. After waiting in a long line, filing in through the gate, and finally settling in a spot, we took a look around and thought the venue was just alright😕.
In hindsight I think we were almost expecting a spiritual experience from simply being there. Cam was also hoping the acoustics would go absolutely crazy during the concert but they didn't. We felt like we were just in a regular venue but with large rocks lining the sides. Not sure what the hype is about. (Is it the copious amounts of weed that make Red Rocks great? There were tons of it that night.)
Also, I read a statement before the concert started about how the Red Rocks organization recognizes and honors the lands they're on and how the lands were originally inhabited by indigenous groups. I don't really understand what that's supposed to mean because I don't think those words do anything for anyone. It's like a poor attempt at sounding woke and aware.

But hey, we had fun watching Mt. Joy perform.
I was kind of hoping Boulder and Denver would be epic, because I felt like these places were known for having the best of both worlds (city life and nearby nature). But the city and surrounding areas didn't live up to the idealized place I imagined. Denver really isn't that close to the mountains and everything East of it is super flat and dry. Boulder is expensive af.
We checked out downtown and it was just full of corporate buildings, a few open restaurants, and a number of questionable people walking around. Denver feels like a place where you need to spend money in order to have a good time which is such a turn off.
Maybe going at night wasn't the best time to visit but it was scorching hot during the day so I didn't care to leave our Airbnb. Needless to say, all hopes of maybe moving to Denver were officially gone by the end of our stay.
"Cam and I are definitely not city people. We don't like the idea of sitting in traffic, lack of greenery, and just the crowdedness without a sense of community." - from my journal (8/17/23)
Though Denver and Boulder weren't our vibe, I'm glad we were able to rule these places out after experiencing them ourselves. Well it's on to the next place, Utah!